A German Soul, Devotional Music From 17th-Century Hamburg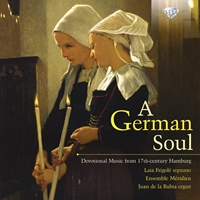 Composer
Franz Tunder, Heinrich Scheidemann, Johann Rosenmüller, Johann Philipp Krieger, Michael Praetorius, Matthias Weckmann
Artist
Laia Frigolé soprano
Ensemble Méridien
Juan de la Rubia organ
Format
1 CD
Cat. number
94717
EAN code
5028421947174
Release
February 2014
About this release
This stylishly devised programme juxtaposes cantatas by Rosenmüller, Krieger and Buxtehude with instrumental chorales and sonatas by Scheidemann, Praetorius, Tunder and Weckmann; most of these now known, if at all widely, as forerunners to Bach rather than as fine musicians in their own right as they deserve to be. During the 17th and 18th centuries, Hamburg became a leading commercial port where material and cultural goods circulated freely. Ensemble Méridien has chosen this city as the focal point of a fascinating musical journey through northern Germany, a journey that reveals different aspects of this artistic power. The port of Hamburg was also the driving force behind the north German organ school of the time. Churches were overflowing with magnificent organs, and their building and playing techniques reached extremely high standards, as is evident from the organ music included here. Though most of the music in this recital has been recorded before, it has only appeared on relatively obscure labels, and not in this imaginative context where one may more fully appreciate its dramatic as well as musical merits.

Founded in Barcelona in 2010, Ensemble Méridien is an early-music ensemble of young musicians; this is its first recording.

Other information:
- Recorded February 2012, Church of Nuestra Señora de la Asunción de l'Alcora, Castellón, Spain.
- The composers on this recording have one thing in common: they were active in Hamburg during the 17th century. This German port was then a flourishing centre of commerce and culture, a magnet for composers drawn by the magnificent organs of the city's many churches.
- The beautifully devised programme on this new CD features composers Rosenmüller, Krieger, Buxtehude, Praetorius, Tunder and Weckmann, all pre-Bachian masters in their art.
- The programme alternates instrumental (chamber music and organ solo) and vocal works (Cantatas).
- Period instrument group Ensemble Méridien make their CD debut with this enchanting programme, in performances of great intimacy and beauty.
- Booklet contains liner note, artist biographies (in English and Spanish) and organ specification.
Track list
Disk 1
Sonata seconda à due

Praeambulum in D Major, WV. 33

Cantata "Eja torpentes animae surgite"

Trio Sonata in D Minor, BWV 527: I. Andante

Trio Sonata in D Minor, BWV 527: II. Adagio e dolce

Trio Sonata in D Minor, BWV 527: III. Vivace

Chorale "Christ lag in Todesbanden"

Choral Fantasy "Christ lag in Todesbanden"

Fantasia ex D

Musikalischer Seelen-Friede: No. 2, Cantata "Herr, auf dich trau ich" (Psalm 31)

Cantata "Herr, wenn ich nur dich hab", BuxWV 38