Beethoven: String Quintets (Complete)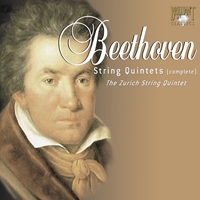 Composer
Ludwig van Beethoven
Artist
The Zurich String Quintet:
Boris Livschitz violin
Mátyás Bartha violin
Zvi Livschitz viola
Dominik Ostertag viola
Mikayel Hakhnazaryan cello
Viorel Alexandru double-bass
Format
2 CD
Cat. number
92857
EAN code
5028421928579
Release
April 2006
About this release
Beethoven's complete string quintets by the Zurich String Quintet. This might be a surprise: Did Beethoven write that many string quintets? Yes and no.

In addition to the well-known quintet Op. 29, this set also includes the earlier Op. 4, which the composer later recomposed for octet (Op. 103). Beethoven also arranged his piano trio Op. 1 No. 3 for string quintet, it is his Op. 104. With the Fugue for string quintet, Op. 137, this release offers all there is by Beethoven for 5 string instruments.

Other information:
- Featuring two bonuses: the duet for viola and cello (WoO 32) and sechs ländlerische Tänze for 2 violins, cello and double-bass (WoO 15)
- Recommended to any lover of chamber music.
Track list
Disk 1
String Quintet in C Major, Op. 29: Allegro moderato

String Quintet in C Major, Op. 29: Adagio molto espressivo

String Quintet in C Major, Op. 29: Scherzo, allegro

String Quintet in C Major, Op. 29: Presto

String Quintet in C Minor, Op. 104 (arrangement of Piano Trio, Op. 1 No. 3): Allegro con brio

String Quintet in C Minor, Op. 104 (arrangement of Piano Trio, Op. 1 No. 3): Andante cantabile con variazioni

String Quintet in C Minor, Op. 104 (arrangement of Piano Trio, Op. 1 No. 3): Menuetto, quasi allegro

String Quintet in C Minor, Op. 104 (arrangement of Piano Trio, Op. 1 No. 3): Finale, prestissimo
Disk 2
String Quintet in E-Flat Major, Op. 4: Allegro con brio

String Quintet in E-Flat Major, Op. 4: Andante

String Quintet in E-Flat Major, Op. 4: Menuetto

String Quintet in E-Flat Major, Op. 4: Finale, presto

Fugue, for String Quintet in D Major, Op. 137

Duet for Viola and Cello in E-Flat Major, WoO 32: Movement 1

Duet for Viola and Cello in E-Flat Major, WoO 32: Minuetto

Sechs Ländlerische Tänze for 2 violins, cello and double-bass, WoO 15