Berlioz: Requiem (Grande Messe des morts) (EUR)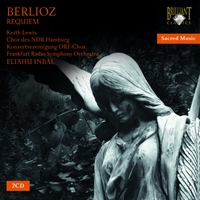 Composer
Hector Berlioz
Artist
Keith Lewis tenor
Frankfurt Radio Symphony Orchestra and Choirs
Eliahu Inbal conductor
Format
2 CD
Cat. number
93946
EAN code
5028421939469
Release
July 2009
About this release
'Haunted by the absence of God' is how the Berlioz biographer David Cairns described the Grande Messe des morts. Written at a time and in a country where there was no place for God after the Revolution, it is a work of genuine mourning and high drama.

In 1837 Berlioz was commissioned by the French Interior Ministry to write something that could be used for major public ceremonies. He had already composed a Messe solenelle in 1824, and he turned to this work for both material and inspiration. The resulting Requiem is one of the largest religious works of all time – and in length compares with Verdi's Requiem and Britten's War Requiem. Berlioz, like Bruckner, saw his work scored for massive choral and instrumental forces, as almost architectural in structure. He certainly wanted to fill every possible part of the cathedral or church with sound. This remarkable work looks back as well as forwards – the influence of past masters such as Gossec and Cherubini hovers over the Requiem, but there is also a break with tradition. This is a deeply personal work. It is violent, frightening, and often uncomfortable. Berlioz wrote, 'The poetry of the Prose des morts so intoxicated and exalted me that nothing presented itself to my mind with any clarity: my head was seething, I felt quite dizzy.' It is also, for all its grandeur, an austere work. The massive choral and orchestral sections present a forbidding if impressive façade and this is only broken in one section which allows the tenor soloist a brief moment in the spotlight. This austerity no doubt reflects the influence of Cherubini whose C minor Requiem of 1815 has no soloists.

Other information:
- Digital recording made by Denon.
- This release is available in Europe only.
- Booklet essay and sung texts included.
Track list
Disk 1
I. Introït: Requiem et Kyrie: Requiem aeternam – Te decet hymnus – Kyrie eleison

II. Dies irae: Dies irae – Animez un peu – D Minor –

II. Dies irae: Andante maestoso – Tuba mirum – Mors stupebit – Liber scriptus – Judex ergo

III. Quid sum miser

IV. Rex tremendae: Rex tremendae – Qui salvandos – Rex tremendae – Confutatis – Andante maestoso

V. Quaerens me

VI. Lacrymosa
Disk 2
VII. Offertoire: Domine Jesu Christe – Et sanctus Michael

VIII. Hostias

IX. Sanctus: Sanctus (tenor solo) – Hosanna (Fuga) – Sanctus (tenor solo) – Hosanna (Fuga)

X. Agnus Dei: Agnus Dei – Te decet hymnus – Requiem aeternam