Bloch: Israel, Nigun, Schelemo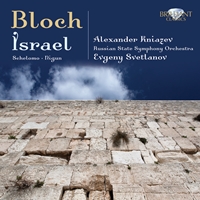 Composer
Ernest Bloch
Artist
Russian State Orchestra of the USSR
Evgeny Svetlanov conductor
Format
1 CD
Cat. number
9164
EAN code
5029365916424
Release
August 2010
About this release
Ernest Bloch (1880-1959) was a Swiss composer who did more to establish Jewish themes and musical idiom in to music than any other composer who could claim Jewish roots was. Whereas many 'Jewish' composers composed in idioms that were European, and only occasionally used Klezma or gypsy themes and sounds (Mahler for example), Bloch considered it his mission to position the musical heritage of his people in the fore front of Western classical music as Bartok and Kodaly had done in Hungary, Vaughan Williams in the British Isles, Sibelius and Grieg in Scandinavia, Enescu in Rumania and Copland in America.

Nationalism in music is fine if you have a nation. What if you are Jewish, and are part of the musical culture of so many nations – often scared to declare your parentage and origins in case you were persecuted or killed? The place-less person, or 'Wondering Jew' gave Bloch the inspiration to compose what he termed 'most unmistakably racial music'.

The best known work on this CD is the striking cello concerto 'Schelomo', or Solomon. It is a powerful work, and has vividly colourful orchestration giving it the feeling of a Hollywood Biblical epic soundtrack.

The three works here, taken together, represent the 'Jewish Cycle' Bloch started in 1912. These are highly emotional works expertly scored, and they leave a powerful impression on the listener.

Other information:
- Recorded in 1998.
Track list
Disk 1
Baal Shem: Nigun for Strings, Trumpet, Timpani and Tam-Tam (Orch. by Stakevich)

Schelomo, Hebrew Rhapsody for Cello and Orchestra

Israel, Symphony for Orchestra and Five Soloists