Boccherini: String Quintets, Vol. VI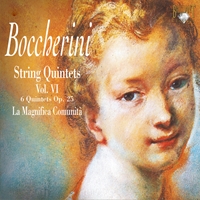 | | |
| --- | --- |
| Composer | Luigi Boccherini |
| Artist | La Magnifica Comunita |
| Format | 2 CD |
| Cat. number | 93820 |
| EAN code | 5028421938202 |
| Release | August 2008 |
About this release
This expert group of Italian Barock musicians continues its journey through Boccherini's greatest contribution to chamber music. He composed over a hundred string quintets, none of which will ever achieve the (deserved) fame or reputation of Schubert's single example, but which have much to offer on their own terms: most notably a singing, melodic invention that betrays his Italian roots, as does the relatively low place accorded to counterpoint or development compared to the more strenuous inventions of his contemporary Mozart.

The Op.25 set of six quintets recorded here dates from 1778, a decade after he made his decisive and profitable move to Madrid in the employ and patronage of aristocratic courts who were well pleased with the unfailingly charming, uncomplicated and urbane music he provided for their entertainment and diversion. One of his patrons had a string quartet: with Boccherini joining them as a second cellist, a genre was born, only to die a matter of decades later with Schubert.

Other information:
- The only available recording of the complete Op.25 set, and part of an unprecedented complete cycle.
Track list
Disk 1
Quintetto I in D Minor, G. 295: Larghetto

Quintetto I in D Minor, G. 295: Allegro

Quintetto I in D Minor, G. 295: Minuetto con moto, Trio

Quintetto I in D Minor, G. 295: Rondeau Allegretto

Quintetto II in E-Flat Major, G. 296: Sostenuto assai

Quintetto II in E-Flat Major, G. 296: Allegro vivo

Quintetto II in E-Flat Major, G. 296: Minuetto, Trio

Quintetto III in A Major, G. 297: Moderato assa

Quintetto III in A Major, G. 297: Allegro con brio

Quintetto III in A Major, G. 297: Minuetto, Trio
Disk 2
Quintetto IV in C Major, G. 298: Allegro

Quintetto IV in C Major, G. 298: Larghetto

Quintetto IV in C Major, G. 298: Minuetto, Trio

Quintetto IV in C Major, G. 298: Allegro

Quintetto V in D Major, G. 299: Allegro moderato assai

Quintetto V in D Major, G. 299: Largo assai

Quintetto V in D Major, G. 299: Minuetto, Trio

Quintetto V in D Major, G. 299: Grave

Quintetto V in D Major, G. 299: Rondeau Allegretto

Quintetto VI in A Minor, G.300: Allegro non molto

Quintetto VI in A Minor, G.300: Minuetto, Trio

Quintetto VI in A Minor, G.300: Largo cantabile

Quintetto VI in A Minor, G.300: Finale Allegro giusto