Boccherini: String Quintets, Vol. VII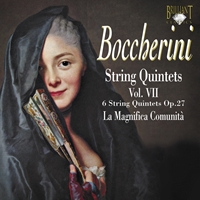 Composer
Luigi Boccherini
Artist
La Magnifica Comunita
Enrico Casazza violin and concert master
Format
1 CD
Cat. number
93774
EAN code
5028421937748
Release
December 2008
About this release
Luigi Boccherini (1743–1805) was an exact contemporary of Josef Haydn, and knew his Austrian colleague well. He also knew the younger Mozart. Although Haydn is credited with developing the String Quartet (Boccherini was himself no slouch when it came to composing quartets), and Mozart likewise with the Quintet, it is Boccherini who can lay claim to establishing the string quintet as a major chamber music form. It is his works that influenced the masterpieces by Mozart, the solitary work by Beethoven, and most importantly, the towering example by Schubert. As a cellist, Boccherini ensured that the cello had a prominent role in the quintets (the cadenza in the trio of no.4), and especially in the almost vocal, song like writing of the slow movements.

The set of six quintets on this release were published as his opus 27 in Madrid in 1779, and are representative of Boccherini at the peak of his powers – urbane, witty, perfectly crafted, graceful and suave. The listener will easily hear why he was nicknamed 'Mrs Haydn' by the violinist Giuseppe Puppo – his music was considered more gentle and feminine than Haydn's.

Other information:
- This is Volume 7 of the complete cycle of Boccherini Quintets by La Magnifica Comunità for Brilliant Classics.
- Recorded in 2007.
- La Magnifica Comunità was founded in 1990, and performs a wide range of repertoire from the baroque and classical periods from sonatas to symphonies and choral works, all on period instruments.
Track list
Disk 1
Quintetto I in A Major, G. 301: Andante con un poco di moto

Quintetto I in A Major, G. 301: Allegro con moto

Quintetto II in G Major, G. 302: Allegro

Quintetto II in G Major, G. 302: Minuetto, Trio

Quintetto III in E Minor, G. 303: Moderato assai

Quintetto III in E Minor, G. 303: Minuetto, Trio

Quintetto IV in Eb Major, G. 304: Sostenuto

Quintetto IV in Eb Major, G. 304: Minuetto, Trio

Quintetto V in G Minor, G. 305: Moderato

Quintetto V in G Minor, G. 305: Minuetto, Trio

Quintetto VI in B Minor, G. 306: Allegro moderato

Quintetto VI in B Minor, G. 306: Minuetto, Trio