Brahms: Serenades 1 & 2, Overtures, Haydn Variations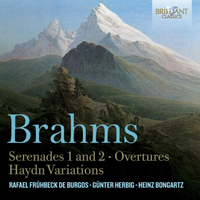 Composer
Johannes Brahms
Artist
Dresdner Philharmonie
Heinz Bongartz conductor
London Symphony Orchestra
Rafaël Frühbeck de Burgos conductor
Berliner Sinfonie-Orchester
Günter Herbig conductor
Format
2 CD
Cat. number
95073
EAN code
5028421950730
Release
April 2015
About this release
"I was in a perfectly blissful mood. I have seldom written music with such delight." Thus Brahms, notorious curmudgeon, to his friend Joseph Joachim, while engaged in his standard practice of arranging larger works – in this case the Second Serenade – for domestic consumption in the form of piano duet.

In those days such arrangements were the means by which most people could appreciate the music of Brahms and indeed anyone else, but now that we have an embarrassment of riches from which to choose, it is still worth gazing back into time a little and alighting on these 60s East German recordings of the composer's two early attempts both to avoid and embrace symphonic scale composition in the company of the still under-rated Heinz Bongartz. As his legendary Leipzig recording of Bruckner's Sixth ably demonstrates, Bongartz never let the grandeur of the Austro-German tradition get in the way of making the music sing. Born in 1894, he overlapped Brahms by four years, and the sense of a heritage tells in these still-vivid recordings made with the orchestra of which he was the founding music director.

In 1992 Gramophone remarked of Gunter Herbig that he is a "wise and experienced" Brahmsian, virtues appreciable in these Berlin recordings of works which, like the Serenades, show the composer's sunny side, even if clouds are never far away.

This release brings together Brahms' symphonic works, excepting his symphonies: the two Serenades, brimming with youthful energy and feeling, the magnificent Haydn variations and the two popular overtures, the Tragic and the "feel good" Academic Festival Overture.
Excellent performances from the Berlin Classics archives featuring the best East German orchestras: Dresden Philharmonie and The Berliner Sinfonie-Orchester, Heinz Bongartz and Günter Herbig conducting.
Track list
Disk 1
Serenade No. 1 in D Major, Op. 11: I. Allegro molto

Serenade No. 1 in D Major, Op. 11: II. Scherzo. Allegro non troppo

Serenade No. 1 in D Major, Op. 11: III. Adagio non troppo

Serenade No. 1 in D Major, Op. 11: IV. Menuetto I & II

Serenade No. 1 in D Major, Op. 11: V. Scherzo. Allegro 3'03

Serenade No. 1 in D Major, Op. 11: VI. Rondo. Allegro
Disk 2
Academic Festival Overture in C Minor, Op. 80

Tragic Overture in D Minor, Op. 81

Variations on a theme by Haydn in B-Flat Major, Op. 56a: Theme. Andante

Variations on a theme by Haydn in B-Flat Major, Op. 56a: Variation I. Poco più animato

Variations on a theme by Haydn in B-Flat Major, Op. 56a: Variation II. Più vivace

Variations on a theme by Haydn in B-Flat Major, Op. 56a: Variation III. Con moto

Variations on a theme by Haydn in B-Flat Major, Op. 56a: Variation IV. Andante con moto

Variations on a theme by Haydn in B-Flat Major, Op. 56a: Variation V. Vivace

Variations on a theme by Haydn in B-Flat Major, Op. 56a: Variation VI. Vivace

Variations on a theme by Haydn in B-Flat Major, Op. 56a: Variation VII. Grazioso

Variations on a theme by Haydn in B-Flat Major, Op. 56a: Variation VIII. Presto non troppo

Variations on a theme by Haydn in B-Flat Major, Op. 56a: Finale. Andante

Serenade No. 2 in A Major, Op. 16: I. Allegro moderato

Serenade No. 2 in A Major, Op. 16: II. Scherzo. Vivace

Serenade No. 2 in A Major, Op. 16: III. Adagio non troppo

Serenade No. 2 in A Major, Op. 16: IV. Quasi menuetto

Serenade No. 2 in A Major, Op. 16: V. Rondo. Allegro