Cimarosa: 30 Sonatas, arrangements for guitar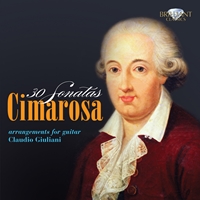 | | |
| --- | --- |
| Composer | Domenico Cimarosa |
| Artist | Claudio Giuliani guitar |
| Format | 1 CD |
| Cat. number | 94172 |
| EAN code | 5028421941721 |
| Release | January 2011 |
About this release
Domenico Cimarosa (1749-1801) was one of the most famous and successful Italian composers of the late 18th century. Renowned for his operas, of which one Il matrimonio segreto (The Secret Marriage) was rivalled in popularity only by Mozart's Le nozze di Figaro (The Marriage of Figaro), and is still in the repertoire today. Cimarosa was a fine composer, with a fluent melodic gift, and this is apparent in other areas of his output. He composed some 88 keyboard sonatas during the years he spent at the court of Catherine the Great in St Petersburg (1787-91), and were probably intended as study pieces for wealthy female students at court.

These short, 'Scarlatti-proportioned' sonatas reveal the melodic vein and rhythmic vitality that made Cimarosa's operas so popular. This music is not in any way influenced by Haydn's or Clementi's sonatas of the period. Cimarosa chose a simpler Neopolitan style of writing. This makes them ideally suited to the guitar as these transcription by Claudio Giuliani reveal.

Other information:
- Recorded in 2009.
- Valuable additions to the classical guitar repertoire.
Track list
Disk 1
Sonata C 2: Andantino

Sonata C 3: Minuè

Sonata C 4: Allegretto

Sonata C 5: Allegretto

Sonata C 9

Sonata C 14

Sonata C 15

Sonata C 16: Andante

Sonata C 17: Andante

Sonata C 18: Allegro

Sonata C 19

Sonata C 20: Andante

Sonata C 21: Allegro

Sonata C 22: Andante

Sonata C 23

Sonata C 24

Sonata C 25: Andante

Sonata C 33: Andantino

Sonata C 34: Allegro

Sonata C 35: Allegro

Sonata C 36: Allegro

Sonata C 37: Andantino

Sonata C 47: Allegro

Sonata C 49: Larghetto

Sonata C 50: Allegro

Sonata C 53: Allegro

Sonata C 55: Largo

Sonata C 56: Allegro

Sonata C 58: Andantino grazioso

Sonata C 61: Largo