Clementi: Complete Sonatas Vol. VI, The Late Sonatas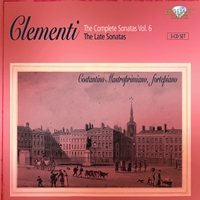 | | |
| --- | --- |
| Composer | Muzio Clementi |
| Artist | Costantino Mastroprimiano fortepiano |
| Format | 3 CD |
| Cat. number | 94342 |
| EAN code | 5028421943428 |
| Release | December 2012 |
About this release
The final volume of Brilliant Classics' acclaimed Clementi series, this release is dedicated to the composer's last and most mature works for pianoforte: the Sonatas Opp. 40, 46 and 50, and the 12 Monferrinas Op.49.

The works embrace a period of around 20 years and were a major landmark within Clementi's output. Slow introductions abound, and although Opp. 40 and 50 were composed separately, it is highly likely that the latter was intended as a sequel to the former because of their shared stylistic detail. From Op.40 No.1's formal experimentation to the quasi-orchestral writing of Op.50 No.3, the compilation also includes various homages – most notably Op.46, whose high level of virtuosity comprises a fitting tribute to the great pianist Friedrich Kalkbrenner.

Maestro Costantino Mastroprimiano is once again our guide, creating an absorbing programme that effectively encapsulates the achievements of Clementi's distinguished career. His consummate performances provide a fitting end to the series, one that confirms the Classical composer's status as among the greatest innovators of the keyboard.

Other information:
- Recorded in July 2009.
- Costantino Mastroprimiano plays a fine original instrument, a Clementi from 1828, from the famous Edwin Beunk Collection.
- A glorious finale to this excellent series, played with gusto, feeling and brilliance by Costantino Mastroprimiano!
- Includes comprehensive booklet notes and a biography of Mastroprimiano.
Track list
Disk 1
Sonata in G, Op. 40 No. 1: I. Allegro molto vivace

Sonata in G, Op. 40 No. 1: II. Adagio, sostenuto e cantabile

Sonata in G, Op. 40 No. 1: III.Allegro: Canone I perpetuo, per moto retto – Canone II perpetuo, per moto contrario

Sonata in G, Op. 40 No. 1: IV. Finale: Presto

Sonata in B Minor, Op.40 No. 2: I. Molto adagio e Sostenuto – Allegro con fuoco e con espressione

Sonata in B Minor, Op.40 No. 2: II. Largo, mesto e patetico

Sonata in B Minor, Op.40 No. 2: 7 III.Allegro – Tempo Primo – Presto

Sonata in D, Op. 40 No. 3: I. Adagio molto – Allegro

Sonata in D, Op. 40 No. 3: II. Adagio con molta espressione

Sonata in D, Op. 40 No. 3: III.Allegro
Disk 2
Sonata in D, Op. 40 No. 3: I. Introduzione: Larghetto cantabile (attacca subito)

Sonata in D, Op. 40 No. 3: II. Allegro con brio

Sonata in D, Op. 40 No. 3: III.Adagio cantabile e sostenuto

Sonata in D, Op. 40 No. 3: IV. Finale: Allegro con fuoco

Twelve Monferrinas for the Piano Forte, Op. 49: No. 1

Twelve Monferrinas for the Piano Forte, Op. 49: No. 2

Twelve Monferrinas for the Piano Forte, Op. 49: No. 3

Twelve Monferrinas for the Piano Forte, Op. 49: No. 4

Twelve Monferrinas for the Piano Forte, Op. 49: No. 5

Twelve Monferrinas for the Piano Forte, Op. 49: No. 6

Twelve Monferrinas for the Piano Forte, Op. 49: No. 7

Twelve Monferrinas for the Piano Forte, Op. 49: No. 8

Twelve Monferrinas for the Piano Forte, Op. 49: No. 9

Twelve Monferrinas for the Piano Forte, Op. 49: No. 10

Twelve Monferrinas for the Piano Forte, Op. 49: No. 11

Twelve Monferrinas for the Piano Forte, Op. 49: No. 12
Disk 3
Sonata in A, Op. 50 No. 1: Allegro maestoso e con sentimento

Sonata in A, Op. 50 No. 1: Adagio sostenuto e patetico

Sonata in A, Op. 50 No. 1: Allegro vivace

Sonata in D Minor, Op. 50 No. 2: Allegro non troppo, ma con energia

Sonata in D Minor, Op. 50 No. 2: Adagio con espressione

Sonata in D Minor, Op. 50 No. 2: Allegro con fuoco, ma non troppo presto

Sonata in G Minor, Op. 50 No. 3: 'Didone abbandonata': Largo patetico e sostenuto – Allegro ma non espressione

Sonata in G Minor, Op. 50 No. 3: Adagio dolente –

Sonata in G Minor, Op. 50 No. 3: Allegro agitato e con disperazione