Cori Spezzati, Venetian Polychoral Music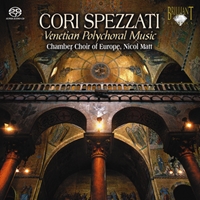 Composer
Various Composers
Artist
Chamber Choir of Europe
Nicol Matt conductor
Format
1 SACD
Cat. number
93689
EAN code
5028421936895
Release
April 2006
About this release
The Gabrieli's, uncle Andrea and nephew Giovanni, are usually credited with the invention of music for double-choir. Although the did inherent the idea from Willaert, they were the ones to perfect this genre indeed. It is closely linked to the Venetian San Marco cathedral which has two balconies opposite each other, thus enabling echoes and other effects between two choirs.

This release contains polychoral music by the Gabrielis and some other composers they taught in Venice, such as Claudio Merulo, organist at San Marco's for over nearly thirty years, is represented by four pieces.

The Chamber Choir of Europe is conducted by Nicol Matt in elated performances on this SACD.
Track list
Disk 1
Ahi senza te

Ninfe leggiadre e belle

Dolce nemica mia

O bene mio

Alma cortes' e bella

Cor mio

Deh dolce anima

T'amo mia vita

Kyrie eleison

Fuggi pur se sai

In nobil sangue

Alla battaglia

Amor dove mi guidi

A le guancie de rose

Gloria

Sanctus

Credo from the Mass "Benedicam Dominum"

Hodie Christus natus est

Agnus Dei

Omnes gentes plaudite
Disk 1
Ahi senza te

Ninfe leggiadre e belle

Dolce nemica mia

O bene mio

Alma cortes' e bella

Cor mio

Deh dolce anima

T'amo mia vita

Kyrie eleison

Fuggi pur se sai

In nobil sangue

Alla battaglia

Amor dove mi guidi

A le guancie de rose

Gloria

Sanctus

Credo from the Mass "Benedicam Dominum"

Hodie Christus natus est

Agnus Dei

Omnes gentes plaudite