Dall'Aquila: La Battaglia Music for Lute, vol. 2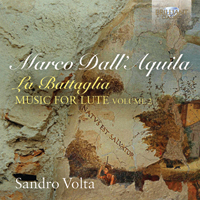 | | |
| --- | --- |
| Composer | Marco Dall'Aquila |
| Artist | Sandro Volta 6-course lute |
| Format | 1 CD |
| Cat. number | 95261 |
| EAN code | 5028421952611 |
| Release | December 2016 |
About this release
The music on this album has its origins in an exciting moment of the history of the lute. It stands at the crossroads of an evolving technique: from performance primarily using a plectrum, to the use of the fingers of the right hand alongside the plectrum, to fingers alone. It was also a moment of innovation in the notation of music: tablature dates from this period, a simple but ingenious method of representing the strings. Into this period of rapid and exciting development came Marco Dall'Aquila, one of Italy's most prominent lutenists of the time. Dall'Aquila was one of the forerunners of tablature, petitioning the Doge of Venice for permission to print and sell his tablature, marketed at those unable to read traditionally notated music.
Although little of Dall'Aquila's printed music survives, it reached the Herwarth manuscripts in Munich, where much of it remains today. Since then, a comprehensive corpus of Dall'Aquila's music has been printed by The Lute Society, and this recording is based on that 2014 edition by Denys Stephens and John Robinson, with personal edits made by the artist.

Sandro Volta is an experienced performer of Renaissance and Baroque lute repertoire. He has already made several recordings for Brilliant Classics, including music for lute by Francesco Da Milano, Dall'Aquila's main rival. This CD is the second volume
of Dall'Aquila's lute music; the first (BC94805) was described as 'immaculate' by MusicWeb International. Listeners looking to explore beyond the established figures of Italian Renaissance lute music will find much to satisfy them with this album.

The late 15th century saw several significant changes in the lute's morphology: the move from 5-course to 6-course instruments coincided with more extensive polyphonic writing and led to a gradual abandonment of the plectrum for plucking the strings, in favour of the fingers which are more suitable for polyphony.
In this period of rapid musical development the Ricercar became the most important musical form, alongside with the dance music and "paraphrases" of liturgical and secular vocal music. Marco Dall'Aquila became one of the most prominent lute players and composers in this period. The originality of Marco's writing, which is always idiomatic in the way it explores the lute's full range of sounds and expressive potential, is balanced between the 15th century mastery of improvisation and the new trend towards polyphony inspired by vocal music. Master lutenist Sandro Volta recorded already works by Dall'Aquila for Brilliant Classics (BC94805), to great critical acclaim: "the performances of these technically challenging works by Sandro Volta are immaculate" (Musicweb).

Recorded in 2015 in Villa 'Il Mauriziano', Reggio Emilia, Italy.
Contains liner notes written by the artist.
Contains a biography of the artist
Numbers refer to the Herwarth manuscripts.
Track list
Disk 1
Recercar No. 101

Priambolo No. 71

Recercar No. 19

Recercar senza canto No. 15

Fantasia casteliono, 1536

Recercar No. 16

Fantasia No. 23

Recercar No. 18

Recercar No. 25

Recercar No. 21

Fantasia on "vous usurpes"

Fantasia No. 29

La battaglia No. 65

C'est a grand tort No. 95

J'ayme le cueur de m'amye No. 98

La traditora No. 38

Recercar No. 68

Recercar No. 70

La traditora a due liuti No. 38a–38d

Bernardo non puol stare a due liuti No. 40–40a