Debussy & Ravel: String Quartets - Piano Trios (EUR)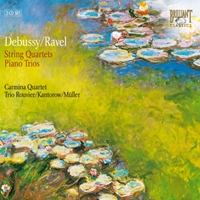 Composer
Claude Debussy, Gabriel Fauré, Maurice Ravel
Artist
Carmina Quartet
Jacques Rouvier piano
Jean-Jacques Kantorow violin
Philippe Müller cello
Format
2 CD
Cat. number
8200
EAN code
5029365820028
Release
January 2007
About this release
Both Ravel and Debussy wrote just one string quartet and one piano trio. Both string quartets have been, unusual not to say bold at the time, and still are fascinating examples of the intricate art of writing for four string instruments.

Debussy's early trio partly is a reconstruction and recomposition premiered as late as 1985. It was written by an 18 year old composer and shows all the signs of his French roots – including his teacher César Franck - and hardly any premonitions of his future style.

Ravel's slightly academic sounding trio also reflects the influence of his teacher, André Gedalgé.

With Fauré's Piano Trio added as a bonus this sets gives an interesting overview of French chamber music around the turn of 20th century and during its first decades.
Track list
Disk 1
String Quartet in G Minor, Op. 10: Animé et très décidé

String Quartet in G Minor, Op. 10: Assez vif et bien rythmé

String Quartet in G Minor, Op. 10: Andantino, doucement expressif

String Quartet in G Minor, Op. 10: Très modéré

String Quartet in F Major: Allegro moderato, très doux

String Quartet in F Major: Assez vif, très rythmé

String Quartet in F Major: Très lent

String Quartet in F Major: Vif et agité
Disk 2
Piano Trio in G Minor: Andantino con moto allegro

Piano Trio in G Minor: Scherzo-Intermezzo: moderato con allegro

Piano Trio in G Minor: Andante espressivo

Piano Trio in G Minor: Finale, appassionato

Piano Trio in A Minor: Modéré

Piano Trio in A Minor: Pantoum

Piano Trio in A Minor: Passacaille

Piano Trio in A Minor: Final, animé

Piano Trio in D Minor, Op. 120: Allegro

Piano Trio in D Minor, Op. 120: Andantino

Piano Trio in D Minor, Op. 120: Andante vivo