Dvorak: Complete Symphonies, Slavonic Dances, Overtures, Symphonic Poems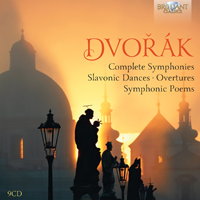 Composer
Antonín Dvorák
Artist
Staatskapelle Berlin
Otmar Suitner conductor
Janácek Philharmonic Orchestra
Theodore Kuchar conductor
Bamberg Symphony Orchestra
Antal Doráti conductor
Format
9 CD
Cat. number
95297
EAN code
5028421952970
Release
November 2015
About this release
Spread over nine CDs, this release represents a treasure trove of works by Dvořák, dedicated to and featuring the best of his orchestral music. The composer stands as the most popular of the Czech nationalist movement, one who despite German influences (Dvořák counted Brahms and Wagner among his inspirations) became a byword in the assimilation of folk roots into serious musical composition. Not only did he use existing melodies, but he composed his own folk-based themes too.

Apart from the nine symphonies, which of course include the enduringly popular 'New World', written during the composer's sojourn in America, the compilation also features a series of overtures (such as the famous Carnival Overture, an exuberant celebration of human life at its best), tone poems (A Hero's Song, which is a sort of Czech equivalent to Strauss's somewhat later Ein Heldenleben, and four gruesome folk ballads which represent the composer's Indian Summer, among others), the famous Czech Suite which has a Mozart Serenade quality about it, and the two sets of Slavonic Dances – the first of which represents a tribute from the younger composer to Brahms's own Hungarian Dances and firmly established Dvořák as a leader of the new Czech national school.

Performing these works is a trio of great ensembles: the Staatskapelle Berlin under their esteemed director of 26 years, Otmar Suitner; The Janáček Philharmonic Orchestra – natural experts in this type of repertoire; and the Bamberg Symphony Orchestra, performing under the baton of Antal Doráti. The edition is an excellent addition to the Brilliant Classics orchestral catalogue and records a crucial facet of the output of one of Europe's most famous composers.

An excellent bargain set in the best Brilliant Classics tradition: the complete symphonies, symphonic poems, overtures and Slavonic Dances of Antonin Dvořák!
The set contains all the symphonic works which made Dvořák one of the best and universally loved romantic composers (and who knew how to write a good tune!): the 9th symphony "From the New World" (one of the most popular symphonies ever written), the charming Czech Suite, haunting symphonic poems (Noon Witch, the Water Goblin) and the exhilarating complete Slavonic Dances. Music pouring from a warm and fiercely beating heart, in which the folklore of Dvořák's home country is never far away.
Excellent performances by the Staatskapelle Berlin, the Janáček Philharmonic and the Bamberg Symphony Orchestra, Antal Doráti.

Other information:
Recorded in 1979 - 2004.
Contains notes on the composer and the music.
Track list
Disk 1
Symphony No. 1 in C Minor, B. 9: I. Maestoso – Allegro

Symphony No. 1 in C Minor, B. 9: II. Adagio di molto

Symphony No. 1 in C Minor, B. 9: III. Allegretto

Symphony No. 1 in C Minor, B. 9: IV. Finale. Allegro animato
Disk 2
Symphony No. 2 in B-Flat Major, Op. 4, B. 12: I. Allegro con moto

Symphony No. 2 in B-Flat Major, Op. 4, B. 12: II. Poco adagio

Symphony No. 2 in B-Flat Major, Op. 4, B. 12: III. Scherzo. Allegro con brio

Symphony No. 2 in B-Flat Major, Op. 4, B. 12: IV. Finale. Allegro con fuoco (alla breve)

Symphony No. 3 in E-Flat Major, Op. 10, B. 34: I. Allegro moderato

Symphony No. 3 in E-Flat Major, Op. 10, B. 34: II. Adagio molto, tempo di Marcia

Symphony No. 3 in E-Flat Major, Op. 10, B. 34: III. Finale. Allegro vivace
Disk 3
Symphony No. 4 in D Minor, Op. 13, B. 41: I. Allegro

Symphony No. 4 in D Minor, Op. 13, B. 41: II. Andante sostenuto e molto cantabile

Symphony No. 4 in D Minor, Op. 13, B. 41: III. Scherzo. Allegro feroce

Symphony No. 4 in D Minor, Op. 13, B. 41: IV. Finale. Allegro con brio

Symphony No. 5 in F Major, Op. 76, B. 54: I. Allegro, ma non troppo

Symphony No. 5 in F Major, Op. 76, B. 54: II. Andante con moto

Symphony No. 5 in F Major, Op. 76, B. 54: III. Scherzo. Allegro scherzando

Symphony No. 5 in F Major, Op. 76, B. 54: IV. Finale. Allegro molto
Disk 4
Symphony No. 6 in D Major, Op. 60, B. 112: I. Allegro non tanto

Symphony No. 6 in D Major, Op. 60, B. 112: II. Adagio

Symphony No. 6 in D Major, Op. 60, B. 112: III. Scherzo (Furiant). Presto

Symphony No. 6 in D Major, Op. 60, B. 112: IV. Finale. Allegro con spirit

Symphony No. 7 in D Minor, Op. 70, B. 141: I. Allegro maestoso

Symphony No. 7 in D Minor, Op. 70, B. 141: II. Poco adagio

Symphony No. 7 in D Minor, Op. 70, B. 141: III. Scherzo. Vivace

Symphony No. 7 in D Minor, Op. 70, B. 141: IV. Finale. Allegro
Disk 5
Symphony No. 8 in G Major, Op. 88, B. 163: I. Allegro con brio

Symphony No. 8 in G Major, Op. 88, B. 163: II. Adagio

Symphony No. 8 in G Major, Op. 88, B. 163: III. Allegretto grazioso

Symphony No. 8 in G Major, Op. 88, B. 163: IV. Allegro ma non troppo

Symphony No. 9 in E Minor, Op. 95, B. 178: I. Adagio – Allegro molto

Symphony No. 9 in E Minor, Op. 95, B. 178: II. Largo

Symphony No. 9 in E Minor, Op. 95, B. 178: III. Scherzo. Molto vivace

Symphony No. 9 in E Minor, Op. 95, B. 178: IV. Allegro con fuoco
Disk 6
Czech Suite Op. 39, B. 93: I. Preludium (Pastorale). Allegro moderato

Czech Suite Op. 39, B. 93: II. Polka. Allegretto grazioso

Czech Suite Op. 39, B. 93: III. Sousedská (Minuetto). Allegro giusto

Czech Suite Op. 39, B. 93: IV. Romance (Romanza). Andante con moto

Czech Suite Op. 39, B. 93: V. Finále (Furiant). Presto

My Homeland, Op. 62, B. 125a

Hussite Overture, Op. 67, B. 132

In Nature's Realm, Op. 91, B. 168

Othello, Op. 93, B. 174
Disk 7
Symphonic Variations, Op. 78, B. 70

Carnival Overture, Op. 92, B. 169

The Water Goblin in B Minor, Op. 107, B. 195

The Noon Witch, Op. 108, B. 196
Disk 8
The Golden Spinning Wheel, Op. 109, B. 197

The Wild Dove, Op. 110, B. 198

A Hero's Song, Op. 111, B. 199
Disk 9
Slavonic Dances, Op. 46, B. 83: I. Furiant. Presto in C Major

Slavonic Dances, Op. 46, B. 83: II. Dumka. Allegretto scherzando in E Minor

Slavonic Dances, Op. 46, B. 83: III. Polka. Poco allegro in A-Flat Major

Slavonic Dances, Op. 46, B. 83: IV. Sousedská. Tempo di minuetto in F Major

Slavonic Dances, Op. 46, B. 83: V. Skocná. Allegro vivace in A Major

Slavonic Dances, Op. 46, B. 83: VI. Sousedská. Allegretto scherzando in D Major

Slavonic Dances, Op. 46, B. 83: VII. Skocná. Allegro assai

Slavonic Dances, Op. 46, B. 83: VIII. Furiant. Presto in G Minor

Slavonic Dances, Op. 72, B. 147: I. Odzemek. Molto vivace in B Major

Slavonic Dances, Op. 72, B. 147: II. Dumka. Allegretto grazioso in E Minor

Slavonic Dances, Op. 72, B. 147: III. Skocná. Allegro in F Major

Slavonic Dances, Op. 72, B. 147: IV. Dumka. Allegretto grazioso in D-Flat Major

Slavonic Dances, Op. 72, B. 147: V. Spacírka. Poco adagio in B-Flat Minor

Slavonic Dances, Op. 72, B. 147: VI. Polonaise. Moderato, quasi minuetto in B-Flat Major

Slavonic Dances, Op. 72, B. 147: VII. Kolo. Allegro vivace in C Major

Slavonic Dances, Op. 72, B. 147: VIII. Sousedská. Grazioso e lento, ma non troppo, quasi tempo di valse in A-Flat Major