Frescobaldi: Edition Vol. 9, Il Primo Libro di Recercari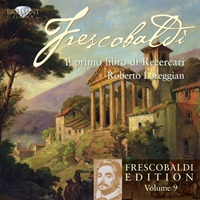 | | |
| --- | --- |
| Composer | Girolamo Frescobaldi |
| Artist | Roberto Loreggian organ |
| Format | 1 CD |
| Cat. number | 94049 |
| EAN code | 5028421940496 |
| Release | February 2011 |
About this release
Girolamo Frescobaldi (1583-1643) is the most significant figure in Italian keyboard music before Domenico Scarlatti. He was born in the northern city of Ferrara which, under the Este family had become a major centre for the musical avant-garde. Frescobaldi thrived in this heady environment, and this together with the influences he had picked up from his travels to Rome and Flanders gave his music its distinctive style. He became organist at St Peter's in Rome, and when the new St Peter's was completed in 1615 it was equipped with two superb organs which Frescobaldi performed on during official services and state events.

The ten Recercari on this CD were published in 1615. The word 'recercare' means to search, or tease out. Musically it describes a work in which a short abstract theme, or motif is manipulated through imitation, inversion and so on. In this recording each recercare is preceded by a toccata taken from a manuscript copied for the wealthy Fugger family of Augsberg. Whilst not from Frescobaldi's 1615 set of Toccatas, they do show many of his fingerprints. Frescobaldi's keyboard music provides a link between the music of Palestrina and Victoria and that of J.S Bach.

Other information:
- Recorded in 2009, A new installment in the prestigious Frescobaldi Edition of Brillant Classics.
- Frescobaldi was the greatest "inventor" of keyboard music before Bach, developing new techniques and instrumental novelties, a true virtuoso.
- Roberto Loreggian is one of the foremost interpreters of Frescobaldi, having won the highest critical praise for his earlier recordings in this series. On this recording he plays an anonymous 18th-century organ in the church of the Annunciation of the B.V.M., Casatico di Marcaria (MN), restored in 2005 by Marco Fratti, with the patronage of 'PROVINCIA DI PADOVA'.
- Booklet notes by renowned Frescobaldi scholar Noel O'Regan
- www.robertoloreggian.com.
Track list
Disk 1
Toccata del Sig.r Frescobaldi in D

Recercar Primo

Toccata del Sig.r Frescobaldi in G

Recercar Secondo

Toccata del Frescobaldi in A

Recercar Terzo

Toccata del Sig.r Frescobaldi in F

Recercar Quarto, sopra MI, RE, FA, MI

Toccata di Frescobaldi in F

Recercar Quinto

Toccata F.Baldi in F

Recercar Sesto, Sopra FA, FA, SOL, LA, FA

Toccata del Sig.r Frescobaldi in G

Recercar Settimo, Sopra SOL, MI, FA, LA, SOL

Toccata del Sig.r Frescobaldi in G

Recercar Ottavo, Obligo di Non Uscir Mai di Grado

Toccata per l'Organo col Contrabbasso Overo Pedale di Frescobaldi in D

Recercar Nono con Quattro Soggetti

Recercar Decimo, sopra LA, FA, SOL, LA, RE