Frescobaldi: Il primo Libro di Capricci, Vol. 8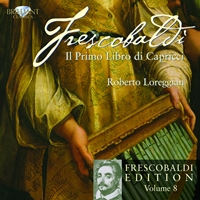 Composer
Girolamo Frescobaldi
Artist
Roberto Loreggian organ
Silvia Frigato soprano
Format
1 CD
Cat. number
94020
EAN code
5028421940205
Release
August 2010
About this release
The ninth volume of the first-ever recorded intégrale of the works of Girolamo Frescobaldi. Only two more volumes remain; all of them, of course, involving the sparkling musicianship and scholarly zeal of the keyboard player Roberto Loreggian.

Frescobaldi was born in Ferrara in 1583, and worked for the influential and wealthy Este family. Ferrara at this time had become the centre for the modern arts and the musical avant-garde. Virtuoso singing and playing flourished, and it was into this heady atmosphere that the young Frescobaldi cut his teeth. Frescobaldi was one of the earliest composers to make keyboard music his speciality, and he was the most important composer for the keyboard prior to Domenico Scarlatti.

These Capriccios were dedicated to Alfonso D'Este, Prince of Modena. They illustrate vividly the invention, and the improvisatory skills for which the composer was renowned. They contain solemn music as well as musical humour, imitations of birds (the cuckoo in particular), and are extremely well written musical exercises for students.

Other information
- Recorded in 2009.
- Booklet notes included.
- Roberto Loreggian studied under Ton Koopman, and has made many recordings for Brilliant Classics, including a complete survey of the keyboard music of Frescobaldi.
- "The excellent Roberto Loreggian brings an attractive improvisatory quality to his playing, starting some pieces with a flourish of his own and employing rubato here and there. The trills in the inner parts of the 'cuckoo' Toccata hold no terrors for him, though by the end you might well want to strangle the bird" (Gramophone, review of Pasquini Sonatas).
Track list
Disk 1
Capriccio I sopra Ut, re, mi, fa, sol, la

Capriccio II sopra La, sol, fa, mi, re, ut

Capriccio III sopra il Cucco

Capriccio IV sopra La, sol, fa, re, mi

Capriccio V sopra la Bassa Fiamenga

Capriccio vi sopra la Spagnoletta

Capriccio viI sopra l'aria "Or che noi rimena" in partite

Capriccio viII cromatico con ligature al contrario

Capriccio IX di durezze

Capriccio X sopra un soggetto

Capriccio XI con obligo di cantar la quinta parte (soprano Silvia Frigato)

Capriccio XII sopra l'aria di Ruggiero