Giuliani: Rossiniane, Pot Pourri (complete)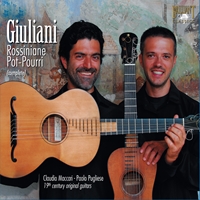 Composer
Mauro Giuliani
Artist
Claudio Maccari
Paolo Pugliese
guitar duo
Format
3 CD
Cat. number
93686
EAN code
5028421936864
Release
April 2006
About this release
A great release for guitar lovers and opera buffs. More arrangements of Rossini operas for guitar(s) by Mauro Giuliani: his Rossiniane I-VI. Also in this set the complete Potpourris (I-VI) and a Grande Ouverture and Gran Sonata Eroica.

A large part of Giuliani's oeuvre consist of arrangements of opera melodies by Italian composers, mainly Rossini. In the Rossiniane most of the popular works present themselves in one way or another: from Il Barbiere di Seviglia and La Gazza ladra, to Tancredi and La Cenerentola.

Guitarists Paolo Pugliese and Claudio Maccari have been performing as a duo since 1988 and play on period instruments. They specialize in 19th-century music. Earlier they have also recorded Giuliani's guitar concertos and his complete works for guitar duet for Brilliant Classics.
Track list
Disk 1
Rossiniana I, Op. 119

Pot-Pourri I, Op.18

Rossiniana II, Op. 120

Pot-Pourri II, Op. 26

Grande Ouverture, Op. 61
Disk 2
Rossiniana III, Op. 121

Pot-Pourri III, Op. 28

Rossiniana IV, Op. 122

Pot-Pourri IV, Op. 31
Disk 3
Rossiniani V, Op. 123

Pot-Pourri V op.42

Rossiniana vi op.124

Pot-Pouri vi, Op. 108

Gran Sonata Eroica, Op. 150