Haydn: String Quartets, Vol. 11 Op. 76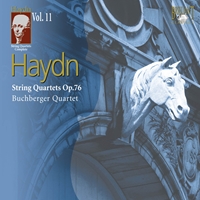 Composer
Franz Joseph Haydn
Artist
Buchberger Quartet:
Hubert Buchberger violin I
Julia Greve violin II
Joachim Etzel viola
Helmut Sohler cello
Format
2 CD
Cat. number
93934
EAN code
5028421939346
Release
May 2009
About this release
Haydn's six quartets published as his Op.76 in 1799, and composed three years earlier, astonished listeners and commentators alike. How on earth could a man advanced in years keep producing such extraordinary music, and show no sign of his creative faculties diminishing? No less a person than Charles Burney was taken aback by the stunning originality and daring of the Op.76 quartets. Writing to Haydn in 1799 he said 'I've never received more pleasure from instrumental music: they are full of invention, fire, good taste, and new effects, and seem the production, not of a sublime genius who has written so much and so well already, but of one of highly-cultivated talents, who had expended none of his fire before.'

There was no doubt that Haydn had bettered his previous quartets. New in the Op.76 was the appearance of a distinctly Beethovenian scherzo. It is perhaps worth noting that just before Haydn completed these quartets, Beethoven had been his unruly pupil. The young man's Op.1 trios, Op.18 quartets, and maybe the early drafts of the 1st Symphony, would have been known to Haydn, and, ever curious to develop new ideas, Haydn would have been attracted to the scherzo. The remarkable vision and scope of these quartets has placed them firmly among the greatest in the repertoire. The public has also embraced them, and the nicknames of some of them will be instantly recognisable to listeners – 'Fifths', 'Emperor' and 'Sunrise'. The 'Sunrise' No.4, has been described by H.C. Robbins Landon as having one 'of the greatest openings in chamber music', and the Fantasia slow movement of No.6 as' one of the boldest and most original movements in the whole eighteenth century'.

Other information:
- Volume 11 in the Buchberger Quartet's cycle of the complete Haydn quartets for Brilliant Classics.
- "They are evidently entirely at home with Haydn's musical language and make excellent guides through Op.9" (Arkivmusic.com, reviewing Volume 1, BC92886)
- "In short, there is a lot here that's genuinely exciting and certainly full of Haydnesque energy" (Classics Today about Volume 5, BC93545).
Track list
Disk 1
String Quartet in G, Op. 76 No. 1: I. Allegro con spirito

String Quartet in G, Op. 76 No. 1: II. Adagio sostenuto

String Quartet in G, Op. 76 No. 1: III. Menuet: Presto - Trio

String Quartet in G, Op. 76 No. 1: IV. Finale: Allegro ma non troppo

String Quartet in D Minor, Op. 76 No. 2: I. Allegro

String Quartet in D Minor, Op. 76 No. 2: II. Andante o più tosto allegretto

String Quartet in D Minor, Op. 76 No. 2: III. Menuet: Allegro - Trio

String Quartet in D Minor, Op. 76 No. 2: IV. Finale: vivace assai

String Quartet in C, Op. 76 No. 3: I. Allegro

String Quartet in C, Op. 76 No. 3: II. Poco adagio. Cantabile

String Quartet in C, Op. 76 No. 3: III. Menuet: Allegro - Trio

String Quartet in C, Op. 76 No. 3: IV. Finale: Presto
Disk 2
String Quartet in B-Flat, Op. 76 No. 4: I. Allegro con spirito

String Quartet in B-Flat, Op. 76 No. 4: II. Adagio

String Quartet in B-Flat, Op. 76 No. 4: III. Menuet: Allegro - Trio

String Quartet in B-Flat, Op. 76 No. 4: IV. Finale: Allegro ma non troppo - Più allegro - Più Presto

String Quartet in D, Op. 76 No. 5: I. Allegretto - Allegro

String Quartet in D, Op. 76 No. 5: II. Largo: Cantabile e mesto

String Quartet in D, Op. 76 No. 5: III. Menuet: Allegro - Trio

String Quartet in D, Op. 76 No. 5: IV. Finale: Presto

String Quartet in E-Flat, Op. 76 No. 6: I. Allegretto - Allegro

String Quartet in E-Flat, Op. 76 No. 6: II. Fantasia: Adagio

String Quartet in E-Flat, Op. 76 No. 6: III. Menuet: Presto - AlternatIVo

String Quartet in E-Flat, Op. 76 No. 6: IV. Finale: Allegro spiritoso