Haydn: String Quartets, Vol. 5 Op. 20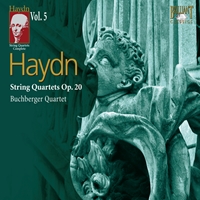 | | |
| --- | --- |
| Composer | Franz Joseph Haydn |
| Artist | Buchberger Quartet |
| Format | 2 CD |
| Cat. number | 93545 |
| EAN code | 5028421935454 |
| Release | September 2007 |
About this release
The Buchberger Quartet has been at it again. This is the fifth volume of their complete string quartets by Josef Haydn. These two CD's contain the six quartets opus 20, the so-called 'Sun' quartets.

The opus 20 quartets are all autonomous. There is preponderance of minor keys, which is a characteristic of the
so-called Sturm und Drang. The cello plays a more melodic role than in previous quartets. And numbers 2, 5 and 6 have 4-voice fugues as their final movements.
Track list
Disk 1
String Quartet in F Minor, Op. 20 No. 5: Moderato

String Quartet in F Minor, Op. 20 No. 5: Menuet

String Quartet in F Minor, Op. 20 No. 5: Adagio

String Quartet in F Minor, Op. 20 No. 5: Finale, Fuga a 2 soggetti

String Quartet in A Major, Op. 20 No. 6: Allegro di molto e scherzando

String Quartet in A Major, Op. 20 No. 6: Adagio

String Quartet in A Major, Op. 20 No. 6: Menuet

String Quartet in A Major, Op. 20 No. 6: Fuga a 3 soggetti: allegro

String Quartet in C Major, Op. 20 No. 2: Moderato

String Quartet in C Major, Op. 20 No. 2: Capriccio-adagio

String Quartet in C Major, Op. 20 No. 2: Menuet

String Quartet in C Major, Op. 20 No. 2: Fuga a 4 soggetti: allegro
Disk 2
String Quartet in G Minor, Op. 20 No. 3: Allegro con spirito

String Quartet in G Minor, Op. 20 No. 3: Menuet

String Quartet in G Minor, Op. 20 No. 3: Poco adagio

String Quartet in G Minor, Op. 20 No. 3: Finale, allegro di molto

String Quartet in D Major, Op. 20 No. 4: Allegro di molto

String Quartet in D Major, Op. 20 No. 4: Un poco adagio e affettuoso

String Quartet in D Major, Op. 20 No. 4: Menuet alla Zingarese

String Quartet in D Major, Op. 20 No. 4: Presto e scherzando

String Quartet in E-Flat Major, Op. 20 No. 1: Allegro moderato

String Quartet in E-Flat Major, Op. 20 No. 1: Menuet

String Quartet in E-Flat Major, Op. 20 No. 1: Affettuoso e sostenuto

String Quartet in E-Flat Major, Op. 20 No. 1: Finale, presto