Haydn: String Quartets, Vol. 7 Op. 17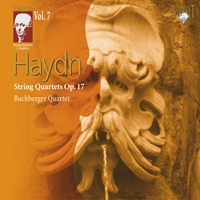 Composer
Franz Joseph Haydn
Artist
Buchberger Quartet
Hubert Buchberger violin
Julia Greve violin
Joachim Etzel viola
Helmut Sohler cello
Format
2 CD
Cat. number
93760
EAN code
5028421937601
Release
January 2009
About this release
The seventh volume of this complete cycle, due to be completed in time for the worldwide celebrations on the 200th anniversary of Haydn's death next year, is dedicated to one of the less well-known collections, Op.17. These six quartets of 1771 come between the first stirrings of Haydn's invention and mastery of the genre to be heard in Op.9 and their flowering into maturity with Op.20, the 'Sun' Quartets. Taking note of recent scholarship, the Buchberger Quartet records the quartets in order of their composition, that we may more clearly perceive the journey from the soloistic, operatic drama of No.2 to the more contained subtleties of No.5 in which convention masks wit.

The Buchberger Quartet has been playing Haydn's quartets since its formation in 1974, experience which tells in this constantly teasing and deceptive music.

Other information:
- Recorded in 2006-7.
- Issued for the Haydn anniversary of 2009.
- Analytical notes by the leader of the quartet, Hubert Buchberger.
Track list
Disk 1
String Quartet, No. 2 in F Major, Op. 17: Moderato

String Quartet, No. 2 in F Major, Op. 17: Menuet, Poco Allegretto

String Quartet, No. 2 in F Major, Op. 17: Adagio

String Quartet, No. 2 in F Major, Op. 17: Finale, Allegro di Molto

String Quartet, No. 1 in E Major, Op. 17: Moderato

String Quartet, No. 1 in E Major, Op. 17: Menuet

String Quartet, No. 1 in E Major, Op. 17: Adagio

String Quartet, No. 1 in E Major, Op. 17: Finale, Presto

String Quartet, No. 4 in C Minor, Op. 17: Moderato

String Quartet, No. 4 in C Minor, Op. 17: Menuet, Allegretto

String Quartet, No. 4 in C Minor, Op. 17: Adagio

String Quartet, No. 4 in C Minor, Op. 17: Finale, Allegro
Disk 2
String Quartet No. 6 in D Major, Op. 17: Presto

String Quartet No. 6 in D Major, Op. 17: Menuet

String Quartet No. 6 in D Major, Op. 17: Largo

String Quartet No. 6 in D Major, Op. 17: Finale, Allegro

String Quartet No. 3 in E Flat Major, Op. 17: Andante Grazioso

String Quartet No. 3 in E Flat Major, Op. 17: Menuet, Allegretto

String Quartet No. 3 in E Flat Major, Op. 17: Adagio

String Quartet No. 3 in E Flat Major, Op. 17: Allegro di Molto

String Quartet No. 5 in G Major: Moderato

String Quartet No. 5 in G Major: Menuet, Allegretto

String Quartet No. 5 in G Major: Adagio

String Quartet No. 5 in G Major: Finale, Presto