Haydn: String Quartets, Vol. 8 Op. 64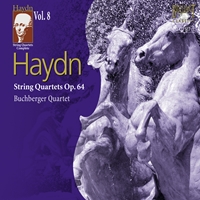 Composer
Franz Joseph Haydn
Artist
Buchberger Quartet:
Hubert Buchberger violin I
Julia Greve violin II
Joachim Etzel viola
Helmut Sohler cello
Format
2 CD
Cat. number
93863
EAN code
5028421938639
Release
September 2008
About this release
Haydn's Op.64 quartets were dedicated to Johann Tost, a maverick wheeler-dealer and virtuoso violinist of Haydn's long acquaintance. These quartets are altogether more assertive and dramatic than those of Op. 50, with virtuoso first-violin parts tailored to Tost's skills – but in the context of brilliant invention, that transforms mere legerdemain into music of astonishing force and rhetorical boldness: Op.64 No.2 is especially remarkable for its wide tonal reach, and almost orchestral depth of sonority; in the second-movement Adagio, where the first
violin weaves wild, gypsy-style fantasies above the brooding chorale-like theme in the lower voices. Most famous of the Op.
64 set, of course, is the 'Lark' Quartet, No. 5, whose gossamer moto perpetuo finale (a Mendelssohnian fairy scherzo avant la
lettre) is a favourite encore piece. But the E flat, No. 6, is at least as fine, with its mellow, intently argued opening movement, its exquisitely textured Andante, and its sonata rondo finale full of instrumental fooling and insouciant contrapuntal virtuosity – a counterpart to the finales in the 'London' symphonies.

The Buchberger Quartet has recorded all of the quartets, of which only five or so ensembles have ever done so before. They bring to the new set all the redoubtable qualities of energy and informed enthusiasm which have made previous sets so infectiously popular.
Track list
Disk 1
String Quartet Op. 64 No. 1 in C Major: Allegro moderato

String Quartet Op. 64 No. 1 in C Major: Menuet, allegretto ma non troopo

String Quartet Op. 64 No. 1 in C Major: Allegretto scherzando

String Quartet Op. 64 No. 1 in C Major: Finale, presto

String Quartet Op. 64 No. 2 in B Minor: Allegro spirituoso

String Quartet Op. 64 No. 2 in B Minor: Adagio ma non troppo

String Quartet Op. 64 No. 2 in B Minor: Menuet, allegretto

String Quartet Op. 64 No. 2 in B Minor: Finale, presto

String Quartet Op. 64 No. 3 in B flat Major: vivace assai

String Quartet Op. 64 No. 3 in B flat Major: Adagio

String Quartet Op. 64 No. 3 in B flat Major: Menuet, allegretto

String Quartet Op. 64 No. 3 in B flat Major: Finale, allegro con spirit
Disk 2
String Quartet Op. 64 No. 4 in G Major: Allegro con brio

String Quartet Op. 64 No. 4 in G Major: Menuetto, allegretto

String Quartet Op. 64 No. 4 in G Major: Adagio

String Quartet Op. 64 No. 4 in G Major: Finale, presto

String Quartet Op. 64 No. 6 in E flat Major: Allegro

String Quartet Op. 64 No. 6 in E flat Major: Andante

String Quartet Op. 64 No. 6 in E flat Major: Menuet, allegretto

String Quartet Op. 64 No. 6 in E flat Major: Finale, presto

String Quartet Op. 64 No. 5 in D Major: Allegro moderato

String Quartet Op. 64 No. 5 in D Major: Adagio cantabile

String Quartet Op. 64 No. 5 in D Major: Menuet, allegretto

String Quartet Op. 64 No. 5 in D Major: Finale, vivace