Haydn: String Quartets, Vol. 9 Op. 50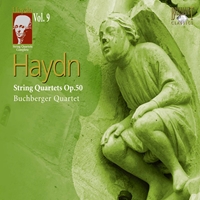 Composer
Franz Joseph Haydn
Artist
Buchberger Quartet:
Hubert Buchberger violin I
Julia Greve violin II
Joachim Etzel viola
Helmut Sohler cello
Format
2 CD
Cat. number
93866
EAN code
5028421938660
Release
March 2009
About this release
Dedicated to Friedrich Wilhelm II, King of Prussia, these six quartets date from 1787 and show all the hallmarks of Haydn's study of Mozart's contemporaneous quartets. Both composers were great friends, and Haydn greatly enjoyed the younger man's company – no doubt finding Mozart's colourful vocabulary and joke telling a welcome relief from staid court life. In two areas of composition – the piano concerto and opera, Haydn admitted that he could not compete with the 'divine Mozart'.

However, the string quartet was a medium where Haydn was very much his own man, and he was able to absorb the younger composer's striking innovations (Mozart had dedicated his six quartets K387,421, 428, 458, 464 and 465 to Haydn) and take the quartet form to new horizons. The quartets of Op.50 (apart from the solitary work Op.42) mark a return to quartet composition after a gap of seven years, and show a marked increase in confidence and maturity in the form. They are on a much larger scale than the preceding op33 set and were followed rapidly by the three works each of Opp. 54 and 55, and the six quartets of Op.64 dating from 1790 – a remarkable burst of composition in just three years!

Haydn's quartets often acquired names – sometimes rather odd ones. The sixth work of Op.50 has become known as 'The Frog' due to the croaking theme in the finale (Haydn's famous humour surfacing even in a serious quartet!), and the fifth has the nickname 'A Dream'.

Other information:
- Volume 9 in the Buchberger's complete cycle of the Haydn string quartets for Brilliant Classics.
- "They (Buchberger Quartet) are evidently entirely at home with Haydn's musical language and make excellent guides through Op.9" (Arkivmusic.com reviewing Volume1, BC92886).
- "In short, there is a lot here that's genuinely exciting and certainly full of Haydnesque energy" (Classics Today on Volume 5 Op.20 Sunrise Quartets, BC93545).
- The Buchberger Quartet was established in 1974, and quickly established a reputation for performing Haydn. They have returned to his 69 quartets often, and in 2005 embarked on a four-year project to perform the complete cycle in Frankfurt which includes illustrated talks and introductions to the works. They have also made pioneering and much praised recordings of the string quartets by Ernst Toch.
Track list
Disk 1
String Quartet in B-Flat, Op. 50 No. 1: I. Allegro

String Quartet in B-Flat, Op. 50 No. 1: II. Adagio non lento

String Quartet in B-Flat, Op. 50 No. 1: III. Menuetto: Poco allegretto - Trio

String Quartet in B-Flat, Op. 50 No. 1: IV. Finale: vivace

String Quartet in C, Op. 50 No. 2: I. vivace

String Quartet in C, Op. 50 No. 2: II. Adagio

String Quartet in C, Op. 50 No. 2: III. Menuetto: Allegretto - Trio

String Quartet in C, Op. 50 No. 2: IV. Finale: vivace assai

String Quartet in E-Flat, Op. 50 No. 3: I. Allegro con brio

String Quartet in E-Flat, Op. 50 No. 3: II. Andante più tosto allegretto

String Quartet in E-Flat, Op. 50 No. 3: III. Menuetto: Allegretto - Trio

String Quartet in E-Flat, Op. 50 No. 3: IV. Finale: Presto
Disk 2
String Quartet in F-Sharp Minor, Op. 50 No. 4: I. Allegro spirituoso

String Quartet in F-Sharp Minor, Op. 50 No. 4: II. Adagio cantabile sostenuto

String Quartet in F-Sharp Minor, Op. 50 No. 4: III. Menuetto: Poco allegretto - Trio

String Quartet in F-Sharp Minor, Op. 50 No. 4: IV. Finale: Allegro molto (Fuga)

String Quartet in F, Op. 50 No. 4: I. Allegro Moderato

String Quartet in F, Op. 50 No. 4: II. Poco adagio

String Quartet in F, Op. 50 No. 4: III. Menuetto: Allegretto - Trio

String Quartet in F, Op. 50 No. 4: IV. Finale: Allegro molto (Fuga)

String Quartet in D, Op. 50 No. 6: I. Allegro

String Quartet in D, Op. 50 No. 6: II. Poco adagio

String Quartet in D, Op. 50 No. 6: III. Menuetto: Allegretto - Trio

String Quartet in D, Op. 50 No. 6: IV. Finale: Allegro con spirito