J.S. Bach: Clavier Ubung, Dritter Teil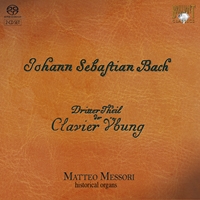 | | |
| --- | --- |
| Composer | Johann Sebastian Bach |
| Artist | Matteo Messori keyboards |
| Format | 2 SACD |
| Cat. number | 92769 |
| EAN code | 5028421927695 |
| Release | April 2006 |
About this release
For this SACD recording, musicologist Matteo Messori has chosen three appropriate historical instruments. And after thorough research he succeeded in adding something new to the presently available recordings.

Profound performances by Matteo Messori. This Italian keyboard player and musicologist also founded the Cappella Augustana which has made several recordings for Brilliant Classics. Messori is preparing more solo Bach recordings for this label.

Published in 1739, the third part of the Clavier Übung was J.S. Bach's first organ music to appear in print. It contains preludes on the Catechism and other hymns. It is also his most voluminous and important collection for this instrument. Generally the music requires three keyboards, including a pedalled one.

Other information:
- Together the first nine arrangements form a Lutheran mass, a 'missa brevis'.
- The booklet includes an extensive essay by the performer on the music's purpose, background and the structure of the entire Clavier Übung.
Track list
Disk 1
Praeludium Pro Organo Pleno, BWV 552/I

Kyrie, Gott Vater in Ewigkeit, BWV 669: Canto Fermo in Soprano a 2 Clav. Et Ped.

Christe Aller Welt Trost, BWV 670: Canto Fermo in Tenore a 2 Clav. Et Pedal

Kyrie Gott Heiliger Geist à 5, BWV 671: Canto Fermo in Basso Cum Organo Pleno

Kyrie Gott Vater in Ewigkeit, BWV 672: Alio Modo Manualiter

Christe Aller Welt Trost, BWV 673

Kyrie Gott Heiliger Geist, BWV 674

Allein Gott in Der Höh Sey Ehr à 3, BWV 675: Canto Fermo in Alto

Allein Gott in Der Höh Sey Ehr à 2 Clav. Et Pedal, BWV 676

Allein Gott in Der Höh Sey Ehr. Manualiter, BWV 677

Diess Sind Die Heiligen Zehen Geboth à 2 Clav. Et Ped., BWV 678: Canto Fermo in Canone

Fugetta Super Diess Sind Die Heiligen Zehen Geboth. , BWV 679: Manualiter

Wir Gläuben All An Einen Gott, BWV 680: in Organo Pleno Con Pedale
Disk 2
Fugetta Super - Wir Gläuben All An Einen Gott - Manualit. , BWV 681

Vater Unser Im Himmelreich , BWV 682 à 2 Clav. et Pedal è Canto Fermo in Canone

Vater Unser Im Himmelreich, BWV 683 : Alio Modo Manualiter

Christ Unser Herr Zum Iordan Kam, , BWV 684 à 2 Clav. è Canto Fermo in Pedal

Christ Unser Herr Zum Jordan Kam, BWV 685: Alio Modo Manualiter

Aus Tieffer Noth Schrey Ich Zu Dir à 6 , BWV 686: in Organo Pleno Con Pedale Doppio

Aus Tieffer Noth Schrey Ich Zu Dir à 4, BWV 687: Alio Modo Manualiter

Jesus Christus unser Heyland, der von uns den Zorn Gottes wand a 2 Clav. e Canto fermo in Pedal BWV

Fuga Super Iesus Christus Unser Heyland à 4 Manualiter, BWV 689

Duetto I, BWV 802

Duetto II , BWV 803

Duetto III, BWV 804

Duetto IV, BWV 805

Fuga à 5 con Pedale Pro Organo Pleno, BWV 552/II