J.S. Bach: Complete Orchestral suites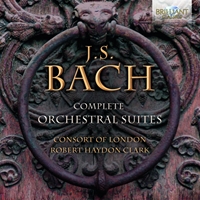 Composer
Johann Sebastian Bach
Artist
Consort Of London
Robert Haydon Clark conductor
Format
1 CD
Cat. number
94413
EAN code
5028421944135
Release
August 2012
About this release
The most successful of Baroque composers were highly sensitive to the prevailing musical fashions of their day, effortlessly moving from style to style to satisfy listeners, performers and patrons. In his four orchestral suites, Bach turned his hand to one of the two main musical genres in 18th-century Europe – the suite, the French counterpart to the Italian Concerto.

Beyond mere commercial awareness, however, Bach's suites convey a deep understanding of musical character and instrumental colour. An abundance of different moods and forms are explored: in addition to the grand French overtures that open each suite, the traditional dance movements that follow display great variety, with the Gavotte, Bourrée, Sarabande, Menuet and the more unusual Polonaise and Forlane all making an appearance. Bach's rich and varied approach to orchestration also comes to the fore, contributing to each work's individual charm: Suite No.2, for instance, is characterised by its prominent and often virtuosic solo flute part, while Nos. 3 and 4 owe their festive mood to the three trumpets and timpani.

Although Bach wrote just four works in this genre, his contributions reveal the full extent of his compositional skill, and are an essential part of his oeuvre. Here, they are performed by the Consort of London, an ensemble who have received much critical praise for their interpretations of Bach's music.

Other information:
- One of the few complete recordings of the 4 orchestral suites on one CD.
- The performances by The Consort of London, conducted by Robert Haydon Clark, combine the security and brilliance of modern instruments, while adhering to the principles of the Historically Informed Performance Practice. Excellent recordings from the London Henry Wood Hall.
- Recorded in 1990 in Henry Wood Hall, London.
- Includes comprehensive booklet notes by Clemens Romijn.
Track list
Disk 1
Ouverture (Orchestral Suite) No. 1 in C for two oboes, bassoon, strings and continuo, BWV 1066: I. Ouverture

Ouverture (Orchestral Suite) No. 1 in C for two oboes, bassoon, strings and continuo, BWV 1066: II. Courante

Ouverture (Orchestral Suite) No. 1 in C for two oboes, bassoon, strings and continuo, BWV 1066: III. Gavotte I & II

Ouverture (Orchestral Suite) No. 1 in C for two oboes, bassoon, strings and continuo, BWV 1066: IV. Forlane

Ouverture (Orchestral Suite) No. 1 in C for two oboes, bassoon, strings and continuo, BWV 1066: V. Menuet I & II

Ouverture (Orchestral Suite) No. 1 in C for two oboes, bassoon, strings and continuo, BWV 1066: VI. Bourrée I & II

Ouverture (Orchestral Suite) No. 1 in C for two oboes, bassoon, strings and continuo, BWV 1066: VII. Passepied I & II

Ouverture (Orchestral Suite) No. 2 in B Minor for flute, strings and continuo, BWV 1067: I. Ouverture

Ouverture (Orchestral Suite) No. 2 in B Minor for flute, strings and continuo, BWV 1067: II. Rondeau

Ouverture (Orchestral Suite) No. 2 in B Minor for flute, strings and continuo, BWV 1067: III. Sarabande

Ouverture (Orchestral Suite) No. 2 in B Minor for flute, strings and continuo, BWV 1067: IV. Bourrée I & II

Ouverture (Orchestral Suite) No. 2 in B Minor for flute, strings and continuo, BWV 1067: V. Polonaise

Ouverture (Orchestral Suite) No. 2 in B Minor for flute, strings and continuo, BWV 1067: VI. Menuet

Ouverture (Orchestral Suite) No. 2 in B Minor for flute, strings and continuo, BWV 1067: VII. Badinerie