J.S. Bach: Schübler Chorales, Preludes and Fugues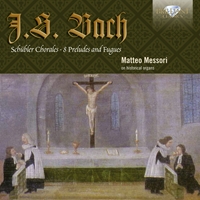 | | |
| --- | --- |
| Composer | Johann Sebastian Bach |
| Artist | Matteo Messori organ |
| Format | 2 CD |
| Cat. number | 94380 |
| EAN code | 5028421943800 |
| Release | November 2012 |
About this release
J.S. Bach is widely regarded as the father of the Baroque period. A master of vocal, keyboard, orchestral and chamber repertoire, he is one of music's greatest legends – a man whose works, which were truly revolutionary for their time, continue to inspire generations of composers.

Bach's virtuoso skill as an organist was world renowned, and he was particularly celebrated for his use of registration. Spanning 2 CDs, this compilation is dedicated to some of his best-known Preludes and Fugues, and also features the celebrated Schübler Chorales. While the former works betray the composer's unparalleled ability to give distinctive qualities to each of the fugal voices, the latter collection – compiled by the publisher Johann Georg Schübler in 1748 – is largely made up of chorales based on melodies from Bach's cantatas, and was intended for concert performance. The celebrated Fantasia and Fugue in C minor BWV357 and Toccata and Fugue in D minor BWV538, which Bach himself is said to have held in high esteem, complete the line-up.

One of Europe's leading organists, Matteo Messori has recorded widely for Brilliant Classics. Here he combines energy with artistic flair to deliver consummate readings of these engaging works: a must-buy for the keyboard and Baroque connoisseur.

Other information:
- Recorded in June 2011.
- Organs: Johannes Creutzburg (1735), St. Cyriakus church of Duderstadt; Eilert Köhler (1738), Kreuzkirche of Suhl. Unique historical organs located in Germany, which have a strong link with the great composer himself, organs which Bach might have known, and whose builders he greatly respected.
- Matteo Messori is one of the leading Baroque organists of Europe; his previous recordings for Brilliant Classics (Kunst der Fuge, BC 94061 and Clavierübung, BC 94201) have been awarded 5 star reviews in international classical magazines. His Schütz edition (BC 94361) is a recorded landmark for that still neglected master.
- Includes booklet notes on the composer and each of the pieces.
Track list
Disk 1
Prelude and Fugue in B Minor, BWV 544: Prelude

Prelude and Fugue in B Minor, BWV 544: Fugue

Prelude and Fugue in G, BWV 541: Prelude

Prelude and Fugue in G, BWV 541: Fugue

Prelude and Fugue in C Minor, BWV 546: Prelude

Prelude and Fugue in C Minor, BWV 546: Fugue

Prelude and Fugue in C, BWV 545: Prelude

Prelude and Fugue in C, BWV 545: Fugue

Prelude and Fugue in E Minor, BWV 548 'Wedge': Prelude

Prelude and Fugue in E Minor, BWV 548 'Wedge': Fugue
Disk 2
Toccata and Fugue in D Minor, BWV 538 'Dorian': Toccata

Toccata and Fugue in D Minor, BWV 538 'Dorian': Fugue

Fantasia and Fugue in C Minor, BWV 537: Fantasia

Fantasia and Fugue in C Minor, BWV 537: Fugue

Sechs Choräle verschiedener Art (Schübler Chorales): I. Wachet auf, ruft uns die Stimme, BWV 645

Sechs Choräle verschiedener Art (Schübler Chorales): II. Wo soll ich fliehen hin, BWV 646

Sechs Choräle verschiedener Art (Schübler Chorales): III. Wer nur den lieben Gott lässt walten, BWV 647

Sechs Choräle verschiedener Art (Schübler Chorales): IV. Meine Seele erhebt den Herren, BWV 648

Sechs Choräle verschiedener Art (Schübler Chorales): V. Ach bleib bei uns. Herr Jesu Christ, BWV 649

Sechs Choräle verschiedener Art (Schübler Chorales): VI. Kommst du nun, Jesu, vom Himmel herunter auf Erden, BWV 650

Prelude and Fugue in C, BWV 547: Prelude

Prelude and Fugue in C, BWV 547: Fugue