Lotichius: Symfonietta for Strings, Piano Concerto No. 2, Four Songs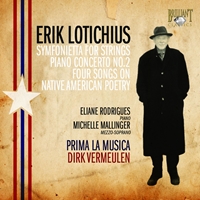 Composer
Erik Lotichius
Artist
Prima La Musica
Dirk Vermeulen conductor
and Michelle Mallinger mezzo soprano
Format
1 CD
Cat. number
9158
EAN code
5029365915823
Release
November 2009
About this release
Erik Lotichius was born in 1929 and studied piano and composition at the Amsterdam Conservatory. A thorough knowledge of the music of J.S. Bach, and his attendance at the 1948 European premiere of the Concerto for Orchestra by Bartók given by the Amsterdam Concertgebouw, shaped his early language. After numerous attempts to compose in a similar style to Bartók, he produced his First Symphony in 1956. Unhappy with his compositions, and not attracted by the avant-garde, he turned to jazz and popular music, and the emergence of the New York minimalist school of Glass, Adams and Reich provided inspiration for the next phase of his compositional output.

This release includes the dance-inspired Symfonietta, the jazz-infused Second Piano Concerto and the Four Songs set to the strikingly simple, moving and beautiful poems by native Americans.

Other information:
- Recorded in 2008.
- Booklet notes about the composer and each work included.
- Unusual contemporary repertoire that crosses boundaries between classical and jazz.
Track list
Disk 1
Symfonietta For Strings: I. Praeludium

Symfonietta For Strings: II. Bluesfantasia

Symfonietta For Strings: III. Zuniga

Symfonietta For Strings: IV Tanganero

Symfonietta For Strings: V Finale

Piano concerto No.2 For Piano, Strings And 3 Saxophones: I Allegro Moderato

Piano concerto No.2 For Piano, Strings And 3 Saxophones: II Andante Con Moto

Piano concerto No.2 For Piano, Strings And 3 Saxophones: III Poco Allegro

Four Songs On Native American Poetryfor Mezzo-Soprano & Orchestra: I With Rejoicing Mouth

Four Songs On Native American Poetryfor Mezzo-Soprano & Orchestra: II The Arrival Of The Whites

Four Songs On Native American Poetryfor Mezzo-Soprano & Orchestra: III On The Death Of Atahualpa

Four Songs On Native American Poetryfor Mezzo-Soprano & Orchestra: IV Lord, Most Generous