Mozart: Concert Arias (Complete)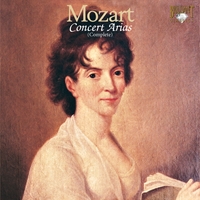 Composer
Wolfgang Amadeus Mozart
Artist
Miranda van Krakelingen soprano
European Sinfonietta
Ed Spanjaard conductor
Format
6 CD
Cat. number
93408
EAN code
5028421934082
Release
March 2007
About this release
From Mozart's exceptionally broad output his concert arias usually are not paid much attention and yet they include some of the composer's best hidden treasures. They date from as early as 1765 (Mozart's visit to The Hague) to 1791, only a few months before his death.

There are some real gems to be found in this repertoire. The aria's are usually contracted as two parts: first a dramatic recitativo-like episode, followed by a beautiful aria.

This set contains all concert arias on recorded by several singers including the famous Dutch soprano Miranda van Kralingen.
Track list
Disk 1
Concert Arias for Soprano and Orchestra: Der Liebe himmlisches Gefühl, KV. 119

Concert Arias for Soprano and Orchestra: Vorrei spiegarvi, oh Dio, KV. 418

Concert Arias for Soprano and Orchestra: Cara, se le mie pene, KV. deest

Concert Arias for Soprano and Orchestra: Se tutti i mali miei, KV. 83

Concert Arias for Soprano and Orchestra: Alcandro, lo confesso… Non sò d'onde viene, KV. 294

Concert Arias for Soprano and Orchestra: Se ardire, e speranza, KV. 82

Concert Arias for Soprano and Orchestra: Ah, spiegarti, oh Dio, KV. 178
Disk 2
Concert Arias for Soprano and Orchestra: Ch'io mi scordi di te… Non temer, amato bene, KV. 505

Concert Arias for Soprano and Orchestra: Alma grande e nobil core, KV. 578

Concert Arias for Soprano and Orchestra: A questo seno…Or che il cielo, KV. 374

Concert Arias for Soprano and Orchestra: Basta vincesti…Ah, non lasciarmi KV. 486a (295a)

Concert Arias for Soprano and Orchestra: Al desio, di chi t'adora, KV. 577

Concert Arias for Soprano and Orchestra: Conservati fedele, KV. 23

Concert Arias for Soprano and Orchestra: Voi avete un cor fedele, KV. 217

Concert Arias for Soprano and Orchestra: Misero mi…Misero pargoletto, KV. 77

Concert Arias for Soprano and Orchestra: Nehmt meinen Dank, KV. 383
Disk 3
Concert Arias for Tenor and Orchestra: Va, dal furor portata, KV. 21 (19c)

Concert Arias for Tenor and Orchestra: Or che il dover…Tali e cotanti sono, KV. 36 (33i)

Concert Arias for Tenor and Orchestra: Si mostra la sorte, KV. 209

Concert Arias for Tenor and Orchestra: Con ossequio, con rispetto, KV. 210

Concert Arias for Tenor and Orchestra: Clarice cara mia sposa, KV. 256

Concert Arias for Tenor and Orchestra: Se al labbro mio non credi, KV. 295

Concert Arias for Tenor and Orchestra: Per pietà, non ricercate, KV. 420

Concert Arias for Tenor and Orchestra: Misero! o sogno...Aura, che intorno spiri, KV. 431
Disk 4
Concert Arias for Bass and Orchestra: Io ti lascio, KV. Anh 245

Concert Arias for Bass and Orchestra: Così dunque tradisci…Aspri rimorsi atroci, KV. 432 (421a)

Concert Arias for Bass and Orchestra: Dite almeno in che mancai, KV. 479

Concert Arias for Bass and Orchestra: Mandina amabile, KV. 480

Concert Arias for Bass and Orchestra: Alcandro, lo confesso…Non sò, d'onde viene, KV. 512

Concert Arias for Bass and Orchestra: Mentre ti lascio, KV. 513

Concert Arias for Bass and Orchestra: Ich möchte wohl den Kaiser sein, KV. 539

Concert Arias for Bass and Orchestra: Un bacio di mano, KV. 541

Concert Arias for Bass and Orchestra: Per questa bella mano, KV. 612

Concert Arias for Bass and Orchestra: Popoli di Tessaglia KV. 316: Popoli di Tessaglia

Concert Arias for Bass and Orchestra: Popoli di Tessaglia KV. 316: Io non chiedo
Disk 5
Concert Arias for Soprano and Orchestra: Ah se in ciel, benigne stelle, KV. 538

Concert Arias for Soprano and Orchestra: Chi sà, chi sà, qual sia, KV. 582

Concert Arias for Soprano and Orchestra: Vado, ma dove? oh Dei! KV. 583

Concert Arias for Soprano and Orchestra: Ch'io mi scordi te? Non temer, amato bene, KV. 490

Concert Arias for Soprano and Orchestra: Per pietà, bell'idol mio, KV. 78 (73b)

Concert Arias for Soprano and Orchestra: Oh, temerario Arbace, KV. 79 (73d)

Concert Arias for Soprano and Orchestra: Bella mia fiamma, addio!... Resta, oh cara, KV. 528

Concert Arias for Soprano and Orchestra: Ah, lo previdi!-Ah, t'invola-Deh, non varcar, KV. 272

Concert Arias for Soprano and Orchestra: Misera, dove son! – Ah! non son'io che parlo, KV. 369
Disk 6
Concert Arias for Soprano and Orchestra: Mia speranza adorata!- Ah, non sai, qual pena sia il doverti, KV. 416

Concert Arias for Soprano and Orchestra: Non curo l'affetto, KV. 74b

Concert Arias for Soprano and Orchestra: Fra cento affanni, KV. 88

Concert Arias for Soprano and Orchestra: A Berenice- Sol nascente, KV. 70

Concert Arias for Soprano and Orchestra: Ma, che vi fece, o stelle- Sperai vicino il lido, KV. 368

Concert Arias for Soprano and Orchestra: No, no, che non sei capace, KV. 419