Mozart: Symphonies, K. 504 "Prague", 543, 550, 551 "Jupiter"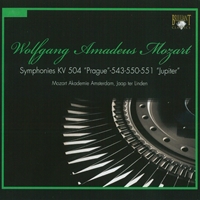 Composer
Wolfgang Amadeus Mozart
Artist
Mozart Akademie Amsterdam
Jaap ter Linden conductor
Format
2 CD
Cat. number
93834
EAN code
5028421938349
Release
November 2007
About this release
A collection of four symphonies written by Mozart: "Prague", "Jupiter" and two without a nickname, K. 543, K. 550. Great performances by Mozart Akademie Amsterdam, conducted by Jaap ter Linden.
Track list
Disk 1
Symphony No. 39 in E-Flat, K. 543: I. Adagio – Allegro

Symphony No. 39 in E-Flat, K. 543: II. Andante

Symphony No. 39 in E-Flat, K. 543: III. Presto

Symphony No. 38 in D, K. 504 'Prague': I. Adagio – Allegro

Symphony No. 38 in D, K. 504 'Prague': II. Andante con moto

Symphony No. 38 in D, K. 504 'Prague': III. Menuetto

Symphony No. 38 in D, K. 504 'Prague': IV. Allegro
Disk 2
Symphony No. 40 in G Minor, K. 550 (Second version with clarinets): I. Molto allegro

Symphony No. 40 in G Minor, K. 550 (Second version with clarinets): II. Andante

Symphony No. 40 in G Minor, K. 550 (Second version with clarinets): III. Menuetto

Symphony No. 40 in G Minor, K. 550 (Second version with clarinets): IV. Allegro assai

Symphony No. 41 in C, K. 551 'Jupiter': I. Allegro vivace

Symphony No. 41 in C, K. 551 'Jupiter': II. Andante cantabile

Symphony No. 41 in C, K. 551 'Jupiter': III. Menuetto

Symphony No. 41 in C, K. 551 'Jupiter': IV. Molto allegro