Patrie! Duets from French Romantic Operas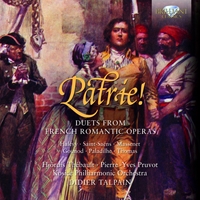 Download booklet
Composer
Ambroise Thomas, Camille Saint-Saëns, Charles Gounod, Fromental Halévy, Jules Massenet, Émile Paladilhe
Artist
Hjördis Thébault soprano
Pierre-Yves Pruvot baritone
Kosice Philharmonic Orchestra
Didier Talpain conductor
Format
1 CD
Cat. number
94321
EAN code
5028421943213
Release
March 2012
About this release
In the 19th century, Paris consolidated its position as the leading city of opera. Composers from Germany (Meyerbeer, Paer and Wagner, who famously had a very unhappy time there) and Italy (Rossini, Verdi, Spontini, Cimarosa and Cherubini) worked there alongside native composers, vying for public favour in the years following the French Revolution.

Opera was performed in Paris's major theatres (the Opera, Opera-Comique, Theatre-Lyrique and Theatre-Italien) and divided into two varieties – serious works on heroic themes and lighter works based on the lives of ordinary people or events. This divide developed into two fully defined styles: opera comiques and drama lyrique.

The programme of this new recording is shaped around rarities of the French operatic repertoire. Among these are the duet between Adam and Eve from Massenet's Eve, a fascinating number with remarkable scoring for soprano saxophone, harp, woodwind, horns and cellos, giving the music a profoundly poetic and supremely lyrical quality. Also included is a duet from the second act of Gounod's Polyeucte, a work that failed to gain widespread popularity due to its combination of opera and oratorio as well as its musical quality.

The title of this disc – Patrie! – is taken from an opera of the same name by the now-forgotten composer Émile Paladilhe. Cast in 5 acts and performed on a huge scale, this tale of the Flemish uprising against Spain was one of the Paris Opera's most successful works, which continued to be staged until the 1920s, when it rapidly sank into obscurity. Heard on this disc is the supremely intense duet from the first scene of act two.

This recording features further duets by Halévy, Massenet, Gounod and Thomas, shedding light on a number of forgotten gems from French romantic opera.

Other information:
- Recorded in 2010
- Fascinating and rare repertoire – a must-have disc for opera enthusiasts
- Comprehensive liner notes, including the historical background of the repertoire written by Didier Talpain.
- Sung texts and biographies available at www.brilliantclassics.com
- Conductor Didier Talpain already received high critical acclaim as a champion of (Early) Romantic forgotten repertoire (notably the works of Hummel, as issued on Brilliant Classics 94043 and 94115).
Track list
Disk 1
Charles VI: Eh ! bien, puisque les morts au plaisir sont rebelles… (Odette & Le Roi)

Henry VIII: Ô mon maître et seigneur…(Catherine & Henry)

Ève: Homme, tu n'es plus seul !... (Ève & Adam)

Polyeucte: Pauline ! Dieux !... Sévère !... (Pauline & Sévère)

Patrie!: Ah ! Maintenant à moi !... (Dolorès & Rysoor)

Le Caïd: Ciel ! Vous chantiez à l'instant fort bien…(Fatma & Michel)

Le Mage: Ah ! Comme ils déchirent mon coeur…(Varedha & Amrou)