Respighi: Complete Orchestral Music, Vol. 4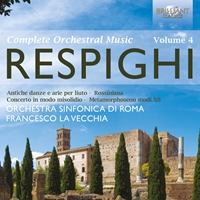 Composer
Ottorino Respighi
Artist
Orchestra Sinfonia di Roma
Francesco la Vecchia conductor
Format
2 CD
Cat. number
94395
EAN code
5028421943954
Release
September 2013
About this release
Brilliant Classics' survey of Respighi's complete orchestral music continues here, with a release that explores the Italian composer's modernising of the past (as previously evidenced in works such as Gli uccelli, see volume 1) as well as two of his most mature creations, written in the last eleven years of his life. Starting with the Antiche danze e arie per liuto, three suites in which Respighi balances antiquated forms against modern instrumentation such as the celesta, we move on to Rossiniana, a charming suite derived from Rossini's piano piece Les riens and with a particularly affecting second movement (Lamento). Next follows the Concerto in modo misolidio of 1925, a work for piano and orchestra whose main theme is based on Gregorian chant and with a vigorous Passacaglia of a finale; completing the compilation is the affective Metamorphoseon modi XII, also pervaded by freely plainsong-like themes.

As ever, Respighi's imaginative use of timbre and first-class orchestration permeate these engaging works, which are skilfully interpreted by an all-Italian cast. About the first volume in the series, allmusic.com wrote: 'The Orchestra Sinfonica di Roma under Francesco La Vecchia certainly plays very well, with the brass fully on top of the numerous passages in which they are mercilessly exposed.'

Other information:
- Recorded 2009, 2011 & 2012, Auditorium Conciliazione, Rome.
- This 4th instalment of the Complete Orchestral Works of Ottorino Respighi contains some of his most popular works: the Ancient Airs and Dances, and the Rossiniana.
- Respighi wrote his Ancient Aires and Dances on the basis of Renaissance and Baroque dances, either of folk music origin (author unknown), or lute pieces by Italian composers, Molinari, Galilei, Caroso, Roncalli. The rich, brilliant and colourful orchestration by Respighi adds a new dimension, enhancing the joyful or melancholy character of these relatively uncomplicated pieces.
- The Concerto Misolidio is a serious large scale Piano Concerto, full of drama and pathos, based on Gregorian Chant (the perfect music for a Dan Brown novel!).
- The Respighi series by the Orchestra Sinfonica di Roma, conducted by maestro Francesco la Vecchia received uniform critical acclaim, 4 and 5 star reviews and praise for the power and transparency of the performances.
- Contains extensive notes on the music.
Track list
Disk 1
Antiche danze et arie per liuto, Suite No. 1: I. Balletto detto 'Il Conte Orlando'. Allegretto moderato

Antiche danze et arie per liuto, Suite No. 1: II. Gagliarda. Allegro marcato – Andantino mosso

Antiche danze et arie per liuto, Suite No. 1: III. Villanella. Andante cantabile – Poco più mosso – Tempo I

Antiche danze et arie per liuto, Suite No. 1: IV. Passo mezzo e Mascherada. Allegro vivo – Vivacissimo – Allegretto – Vivace – Allegretto – Vivo – Vivacissimo – Meno – Tempo I

Antiche danze et arie per liuto, Suite No. 2: I. Laura soave. Andantino – Allegro marcato – Lo stesso tempo – Andantino

Antiche danze et arie per liuto, Suite No. 2: II. Danza rustica. Allegretto

Antiche danze et arie per liuto, Suite No. 2: III. Campanae Parisienses. Andante mosso – Aria. Largo espressivo

Antiche danze et arie per liuto, Suite No. 2: IV. Bergamasca. Allegro

Antiche danze et arie per liuto, Suite No. 3: I. Italiana. Andantino

Antiche danze et arie per liuto, Suite No. 3: II. Arie di corte. Andante cantabile – Allegretto – Lento con grande espressione – Allegro vivace – Vivacissimo – Andante cantabile

Antiche danze et arie per liuto, Suite No. 3: III. Siciliana. Andantino

Antiche danze et arie per liuto, Suite No. 3: IV. Passacaglia. Maestoso – Vivace

Rossiniana, Suite for Orchestra After Rossini: I. Barcarolla e Siciliana 'Capri e Taormina'. Allegretto – Andantino – Allegretto

Rossiniana, Suite for Orchestra After Rossini: II. Lamento. Andantino maestoso

Rossiniana, Suite for Orchestra After Rossini: III. Intermezzo. Allegretto – Poco più mosso – Tempo I

Rossiniana, Suite for Orchestra After Rossini: IV. Tarantella 'pur sangue'. Allegro vivacissimo – Andante religioso – Tempo I
Disk 2
Concerto in modo misolidio for Piano and Orchestra: I. Moderato

Concerto in modo misolidio for Piano and Orchestra: II. Lento

Concerto in modo misolidio for Piano and Orchestra: III. Passacaglia. Allegro energico

Metamorphoseon modi XII: Theme and Twelve Modi