Roussel: Promenade sentimentale, Complete Piano Music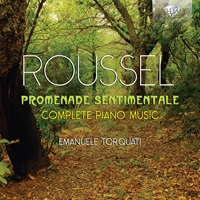 | | |
| --- | --- |
| Composer | Albert Roussel |
| Artist | Emanuele Torquati piano |
| Format | 2 CD |
| Cat. number | 94329 |
| EAN code | 5028421943299 |
| Release | July 2012 |
About this release
The French composer Albert Roussel (1869–1937) was ideally placed to develop a unique musical style. His background was more colourful than most of his fellow composers (he initially studied mathematics and worked as a naval officer before devoting himself to music), while his early years as a composer saw him exposed to a barrage of rich but conflicting musical influences: the impressionist movement (spearheaded by Debussy) and the more traditional approach of the Schola Cantorum (championed by d'Indy and Franck).

Roussel absorbed the wide-ranging styles that he heard around him, blending and modifying them to establish his own distinctive voice – a voice that can be perceived clearly in his music for solo piano. Traditional musical forms are a frequent point of inspiration: in the Suite in F sharp Op.14, Roussel uses rustic dances as a basis to explore both counterpoint and tonal disintegration, while the Bach-inspired Prélude et Fugue demonstrates the neo-Classical style that he was drawn to in his later period.

Above all, Roussel's piano music is characterised by its unique synthesis of rationality and feeling. This approach – exploring tradition while pushing boundaries – is captured expertly by the award-winning pianist Emanuele Torquati; his subtle yet vital performances make this two-disc set a must-have for any enthusiasts of French music.

Other information:
- This is one of the few complete recordings of Roussel's piano oeuvre, and unique in its price category. It contains the world premiere of Roussel's own piano transcription of the Resurrection Op. 4.
- The piano music of French composer Albert Roussel (1869-1937) is a unique blend of musical Impressionism (with protagonists Claude Debussy, and, to a lesser extent, Maurice Ravel), and the Late Romantic style of composers like Cesar Franck and Vincent d'Indy, indulging in rich and dark Wagnerian chromatism.
- Emanuele Torquati is specialist in French repertoire, and presents a valuable addition to Brilliant Classics' discography of French piano music (available are complete sets of the piano music of Debussy, Ravel, Fauré and Franck).
- New liner notes written by musicologist Roberto Milanaccio.
Track list
Disk 1
Des heures passent…, Op. 1 (1898): I. Graves, légères

Des heures passent…, Op. 1 (1898): II. Joyeuses

Des heures passent…, Op. 1 (1898): III. Tragiques

Des heures passent…, Op. 1 (1898): IV. Champêtres

Résurrection, Op. 4 (1903), Symphonic prelude after Tolstoy, arranged for piano by Albert Roussel

Rustiques Op. 5 (1905–6): I. Danse au bord de l'eau

Rustiques Op. 5 (1905–6): II. Promenade sentimentale en forêt

Rustiques Op. 5 (1905–6): III. Retour de fête

Petit canon perpétuel (1913)

Doute (1919)

Conte à la poupée (1904)

L'accueil des muses, pour le tombeau de Claude Debussy (1920)
Disk 2
Suite in F-Sharp. Op. 14 (1909–10): I. Prélude

Suite in F-Sharp. Op. 14 (1909–10): II. Sicilienne

Suite in F-Sharp. Op. 14 (1909–10): III. Bourrée

Suite in F-Sharp. Op. 14 (1909–10): IV. Ronde

Sonatine, Op. 16 (1912): I. Modéré – Vif et très léger

Sonatine, Op. 16 (1912): II. Très lent – Modéré – Très animé

Le Festin de l'araignée, Op. 17: Waltz (1912/28)

Segovía, Op. 29 (1925),Arranged for piano by Albert Roussel

Prélude et Fugue, Op. 46 (1932–4)

Trois Pièces, Op. 49 (1933): I. Allegro con brio

Trois Pièces, Op. 49 (1933): II. Allegro grazioso, tempo di waltz

Trois Pièces, Op. 49 (1933): III. Allegro con spirito – Andante