Rubinstein: Music for Piano Four Hands, Vol. 1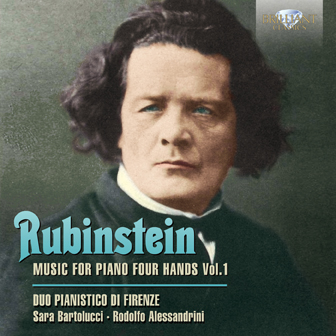 | | |
| --- | --- |
| Composer | Anton Rubinstein |
| Artist | Duo Pianistico di Firenze |
| Format | 1 CD |
| Cat. number | 95016 |
| EAN code | 5028421950167 |
| Release | September 2014 |
About this release
Anton Rubinstein is one of those legendary figures whose life could be the basis for a book or a film script. The extent and variety of his achievements are extraordinary: besides being an astonishingly prolific composer, he achieved global fame as a pianist and was a pioneer of musical organisations in Russia, founding the St Petersburg conservatory.

This album is devoted to his works for piano four hands, though it also succeeds in providing a snapshot of his creative output as a whole. We begin with his Sonata Op.89, perhaps the first great sonata for four hands, and a work that showcases the range of (principally German) influences on his compositional style, containing echoes of Mendelssohn, Beethoven and more. We then travel from the Three Characteristic Pieces Op.9 – creations from his youth which are less mature but which bear the potentiality of what Rubinstein would become, in particular in terms of melodic skill – to the Six Characteristic Pieces Op.50, a series of works written by the composer at the height of his abilities, full of refined and erudite harmony and well-defined pianistic style.

The pianists, Sara Bartolucci and Rodolfo Alessandrini, also known as the Duo Pianistico di Firenze, celebrated 20 years of activity in 2011 with a recital in the prestigious Accademia Bartolomeo Cristofori in Florence. They dedicate themselves completely to the four hands and two pianos literature, in which they have a wide repertoire, including composers of all types and from all historical periods.

Other information:
- Recorded in 2013.
- The first volume of a projected complete recording of Rubinstein's music for 4-hand piano.
- Anton Rubinstein was a legendary pianist in the 19-th century, admired by Liszt and even the young Rachmaninoff. As a pianist he tirelessly toured Europe, his fame spreading widely. As a composer he was equally tireless, composing a substantial oeuvre of practically every genre. His creative roots were, despite his Russian origin, in the German Romantics Mendelssohn, Schumann and Liszt.
- Rubinstein's works for piano 4 hands are high quality salon music: picturesque tone painting, romantic and idyllic, with an occasional touch of Russian folklore. An exception is the Grande Sonata, which is of substantial length and content, dramatic and powerful.
- Excellent performance by one of Italy's foremost duos, the Duo Pianistico de Firenze, who also wrote the extensive liner notes.
- Booklet contains an ensemble biography and consummate notes on the composer and music; Italian note and biography available for download by clicking on 'Download booklet', below the cover (on release).
Track list
Disk 1
Sonata, Op. 89: I. Moderato con moto – Allegro non troppo – Tempo I – Allegro assai

Sonata, Op. 89: II. Scherzo. Allegro molto vivace – Moderato con moto

Sonata, Op. 89: III. Finale. Andante – Allegro non troppo – Allegro assai

Three Characteristic Pieces, Op. 9: I. Chanson Russe (Allegretto)

Three Characteristic Pieces, Op. 9: II. Nocturne sur l'eau (Moderato)

Three Characteristic Pieces, Op. 9: III. La cataracte (Andante)

Six Characteristic Pieces, Op. 50: I. Nocturne (Moderato assai)

Six Characteristic Pieces, Op. 50: II. Scherzo (Allegro vivace)

Six Characteristic Pieces, Op. 50: III. Barcarolle (Moderato assai – Un poco animato)

Six Characteristic Pieces, Op. 50: IV. Capriccio (Allegro vivace e con fuoco – Moderato assai)

Six Characteristic Pieces, Op. 50: V. Berceuse (Moderato assai – Animato)

Six Characteristic Pieces, Op. 50: VI. March (Allegro non troppo)