Saint-Saëns: Complete Piano Concertos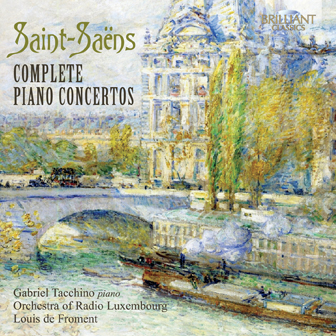 Composer
Camille Saint-Saëns
Artist
Gabriel Tacchino piano
Orchestra of Radio Luxembourg
Louis de Froment conductor
Format
2 CD
Cat. number
94944
EAN code
5028421949444
Release
September 2014
About this release
Camille Saint-Saëns was a truly revered composer in mid-19th- and early-20th-century France. A contributor to many genres and to the general French musical renaissance of this time, he was described as 'the greatest musical mind' of the era by Hans von Bülow, after he sight read the orchestral scores of Wagner's operas Lohengrin, Siegfried and Tristan und Isolde. Saint-Saëns' music was often bold and ambitious, but he was nevertheless a cautious composer who understood the importance of reputation in Paris at this time; his most successful work, The Carnival of the Animals, was not published until after his death, as he feared the effect it would have on his reputation as a serious composer.

This collection brings together all of Saint-Saëns' piano concertos, providing a chronological tour through much of his career: the period of composition spans from 1858 to 1896. Written just five years after the dazzling First Symphony, Concerto No.1 portrays a hint of wariness, displaying charm rather than overt bravura (the only exception being the virtuosic concluding cadenza). The perennial favourite Concerto No.2 is next, composed in just three weeks and with the ink barely dry on the page at the first performance. A highlight of No.3 is the second movement Nocturne, with its tender melody, while No.4 features hymn-like melodies and dazzling brass fanfares. No.5, the 'Egyptian', lives up to its name in its exotic, Arabian themes, with the hints of a bazaar audible in the splendid finale.

Africa Op.9, a veritable piano concerto written by Saint-Saëns during his holiday in the Canary Islands in 1890, brings the collection to a close. The works are performed by critically-acclaimed Gabriel Tacchino, one of the great post-war French classical pianists, and the Orchestra of Radio Luxembourg, directed by Louis de Froment.

Other information:
- The reissue of one of the gems from the famous VOX catalogue: the complete Saint-Saëns Piano Concertos played by Gabriel Tacchino and the Orchestra of Radio Luxembourg, conducted by maitre Louis de Froment.
- Saint Saëns' piano concertos are deservedly popular, especially number 2 and 4, but also no. 5 (with the famous African sound experiments) is played regularly nowadays, being an immensely enjoyable and attractive crowd-pleaser. All of them abound in good tunes, glittering virtuosity and a general sense of French charm, wit and drama (but never too much…).
- Booklet contains the original liner notes.
Track list
Disk 1
Piano Concerto No. 1 in D Major, Op. 17: I. Andante – Allegro assai

Piano Concerto No. 1 in D Major, Op. 17: II. Andante sostenuto quasi adagio

Piano Concerto No. 1 in D Major, Op. 17: III. Allegro con fuoco

Piano Concerto No. 2 in G Minor, Op. 22: I. Andante sostenuto

Piano Concerto No. 2 in G Minor, Op. 22: II. Allegro scherzando

Piano Concerto No. 2 in G Minor, Op. 22: III. Presto

Piano Concerto No. 4 in C Minor, Op. 44: I. Allegro moderato

Piano Concerto No. 4 in C Minor, Op. 44: II. Allegro vivace
Disk 2
Piano Concerto No. 3 in E-Flat Major, Op. 29: I. Moderato assai

Piano Concerto No. 3 in E-Flat Major, Op. 29: II. Andante – III. Allegro non troppo

Piano Concerto No. 5 in F Major, Op. 103 "Egyptian": I. Allegro animato

Piano Concerto No. 5 in F Major, Op. 103 "Egyptian": II. Andante

Piano Concerto No. 5 in F Major, Op. 103 "Egyptian": III. Molto allegro

Fantasy for Piano and Orchestra Op. 89 "Africa"