Schubert: Piano Sonatas (Complete) (EUR)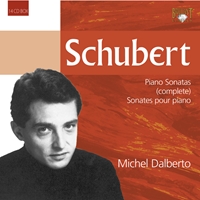 | | |
| --- | --- |
| Composer | Franz Schubert |
| Artist | Michel Dalberto piano |
| Format | 14 CD |
| Cat. number | 92770 |
| EAN code | 5028421927701 |
| Release | April 2006 |
About this release
The complete Piano sonatas and wide selection of other piano solo pieces. Some of Schubert's piano sonatas are far more popular than others. A complete set of these sonatas is hard to be found. And yet they cover the composer's entire adult life and his development as such.

Schubert was the first major composer not to almost exclusively make use of the sonata form for his piano compositions. So to supplement the picture this set offers also the majority of the many other pieces he wrote for the piano. A set catering for both Schubert and piano lovers eager to go beyond the well-known highlights of the repertoire.

French pianist Michel Dalberto (born in 1955) is a specialist in Schubert's music. Inspired performances, an opportunity to hear the Wandererfantasie next to Ecossaises, Deutsche Tänze, Waltzes and much more.

Other information:
- Only available in Europe.
Track list
Disk 1
Moderato

Andante poco moto

Scherzo: Allegro vivace

Rondo: Allegro vivace

Allegro ma non troppo

Andante

Menuetto: Allegro vivace

No. 1 in C major

No. 3 in G major

No. 5 in B-flat major

No. 7 in G minor

No. 14 in D major

No. 13 in A major

No. 19 in A-flat major

No. 21 in E-flat major

No. 24 in G minor

No. 28 in E-flat major

No. 30 in C major

No. 23 in A-flat major

Walzer in A-flat major, D978
Disk 2
No. 1; Moderato

No. 2; Andantino

No. 3; Allegro moderato

No. 4; Moderato

No. 5; Allegro vivace

No. 6; Allegretto

Allegro ma non troppo

Allegretto quasi Andantino

Allegro vivace

No. 1 in D major

No. 2 in D major

No. 3 in G major

No. 4 in D major

No. 5 in D major

No. 6 in D major

No. 7 in D major

No. 8 in D major

Menuett in C-sharp minor, D600 + Trio in E major, D610
Disk 3
Moderato

Andante

Menuetto: Allegretto

Rondo: Allegro

10 Variations in F major, D156

Ecossaise in D minor /F major, D158

Andante in C major, D29

No. 1 in F major

No. 2 in G major

Walzer in G major, D844("Albumblatt")
Disk 4
Molto moderato e cantabile

Andante

Menuetto: Allegro moderato

Allegretto

No. 1 in C major

No. 2 in A major

No. 3 in C major

No. 4 in E minor

No. 5 in A minor

No. 6 in C minor

No. 7 in E major

No. 8 in A major

No. 9 in A minor

No. 10 in F major

No. 11 in C major

No. 12 in C major

Waltzer in G major, D 979

No. 1 in G major

No. 2 in B minor

Allegro moderato

Andante

Menuetto

Allegretto in C major, D 346
Disk 5
No. 1 in C minor: Allegro molto moderato

No. 2 in E-flat major:Allegro

No. 3 in G-flat major: Andante

No. 4 in A-flat major: Allegretto

Allegro moderato

Scherzo: Allegro

Adagio

Scherzo: Allegro

Allegro patetico

No. 1 in E major

No. 2 in A major

No. 3 in C major

Allegretto in C minor, D915
Disk 6
No. 1 in F minor: Allegro moderato

No. 2 in A-flat major: Allegretto

No. 3 in B-flat major: Variation: Andante

No. 4 in F minor: Allegro scherzando

Allegro moderato

Andante

Allegro

13 Variations on a theme by Anselm Hüttenbrenner in A minor, D576
Disk 7
Allegro giusto

Andante

Allegro vivace

No. 1 in D major

No. 2 in A major

No. 3 in D major

No. 4 in D major

No. 5 in B minor

No. 6 in G-sharp minor

No. 7 in A-flat major

No. 8 in C-flat major

No. 9 in B major

No.10 in B major

No. 11 in A-flat major

No.12 in E major

Moderato

Allegretto

Scherzo: Allegro vivace

Rondo in E major, D506, Op. 145

No. 1: Allegretto

No. 2: Allegro moderato

No. 1 in G-flat major

No. 2 in D major

No. 3 in G-flat major

No. 4 in E-flat major

No. 5 in A-flat major

No. 6 in G-flat major

No. 7 in B minor

No. 8 in D major

No. 9 in B major

No. 10 in B major

No.11 in B minor

Ecossaise in D major, D782
Disk 8
I - Allegro ma non troppo

II - Andante

III - Scherzo: Allegretto

IV - Allegro giusto

Adagio in G Major D178

No. 1

No. 2

No. 3

No. 4

No. 5

No. 6

Cotillon in E-Flat Major, D976

I - Allegro moderato

II - Andante

III - Allegro

No. 1

No. 2

No. 14

No. 20

No. 22

No. 23

No. 29

No. 30

No. 31

No. 32

No. 33

No. 34

No. 35

No. 36
Disk 9
Allegro con fuoco non troppo

Adagio

Presto

Allegro

No. 1

No. 2

No. 3

No. 4

No. 5

No. 6

No. 7

No. 8

No. 9

No. 10

No. 11

No. 12

No. 13

No. 14

No. 15

No. 16

No. 1

No. 2

Walzer"Kupelwieser-Walzer" Anh 1-14

I - Moderato

I - Adagio (D612)

III - (Allegretto)

Marsch in E Major, D606
Disk 10
I - Allegro

II - Scherzo: Allegretto

III - Adagio, D505, Op. posth. 145 No. 2

IV - Allegro

Galopp

No. 1

No. 2

No. 3

No. 4

No. 5

No. 6

No. 7

No. 8

I - Allegro

II - Con moto

III - Scherzo: Allegro vivace

IV- Rondo: Allegro moderato
Disk 11
Ungarische Melodie in B minor, D817*

I - Allegro moderato, D571

II - (Klavierstück) D604

III - Scherzo: Allegro vivace, D570

IV - Allegro, D570

No. 1

No. 2

No. 3

9. Variationa über einen Walzer von Anton Diabelli, D718

I - Allegro moderato

II - Andante molto

III - Menuetto: Allegretto

IV - Allegro moderato
Disk 12
No. 1 in E-flat Minor

No. 2 in E-flat Major

No. 3 in C Major

I - Allegro

II - Adagio

III - Menuetto: Allegro

IV - Allegro
Disk 13
I - Allegro

II - Andantino

III - Scherzo: Allegro vivace

IV - Rondo: Allegretto
Disk 14
I - Molto moderato

II - Andante sostenuto

III - Scherzo: Allegro vivace con delicatezza

IV - Allegro ma non troppo