Schumann: Complete Piano Trios, Complete String Quartets, Fantasiestücke Op.88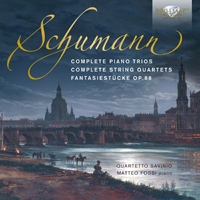 Composer
Robert Schumann
Artist
Quartetto Savinio
Matteo Fossi piano
Format
3 CD
Cat. number
95041
EAN code
5028421950419
Release
June 2016
About this release
Schumann composed his three string quartets and the Fantasiestücke Op.88 in his 'chamber music year' of 1842, while preparing for the two oratorios which he regarded as his greatest work in any medium, Paradise and the Peri (1843) and the Scenes from Goethe's Faust, which preoccupied him on and off for the next decade. Posterity has however been less kind to these large-scale summations than the song cycles and chamber works, such as those recorded here, in which the composer's obsessive reworking of small motifs finds consistently impassioned expression.

As befits their place within the canon of the genre, the string quartets are often densely and contrapuntally worked, whereas the piano-trio Fantasiestücke are more characteristic of Schumann the lyric poet, whether for voice or instruments. These
four pieces are cast as a sonata manqué, with a soulful prelude, lively Scherzo, yearning duet for the two string instruments and combative finale. They have not received the attention they deserve from either performers or listeners, but they are fully the equal of the three piano trios proper in which, according to Alfred Einstein, can best be heard the composer's self-declared dual nature as both Florestan and Eusebius, impetuous man of action and melancholy dreamer. Joy and exuberance are their keynotes.

The Quartetto Savinio has been acclaimed by a native critic as the 'true heir to the Quartetto Italiano', and its musicians were coached by the violist of that ensemble, Piero Farulli. With an all-Italian line-up, the quartet has worked with many contemporary composers from their own country, and won both awards and critical praise for a previous recording of the string quartets by Luigi Cherubini: it is an Italian ensemble through and through. The Florentine pianist Matteo Fossi has recorded for Decca (including much of Brahms's two-piano repertoire with his regular duet partner, Marco Gaggini) and Brilliant Classics, notably the piano quartets of Schumann with Quartetto Klimt (BC95012).

Robert Schumann came relatively late to composing chamber music, having composed his first 23 opus numbers exclusively for the piano. In his piano works he could give his boundless fantasy free reign, chamber music however demands a stricter and more disciplined structure, and this Schumann solved in his own unique way. His chamber music, while never losing its intimacy of expression and full flight of imagination, is rooted in strong, often classical frameworks, a perfect synthesis of form and content.
This set contains the 3 string quartets and the 3 piano trios, masterpieces in their genre, and still slightly undervalued by the general audiences.
The Italian string quartet Quartetto Savinio ("the only worthy heir of the Quartetto Italiano" l'Unità) is joined by pianist Matteo Fossi in performances of deep understanding and passion. They already recorded chamber music by Dvorak and Shostakovich for DECCA.
Track list
Disk 1
String Quartet No. 1 in A Minor, Op. 41: I. Introduzione. Andante espressivo – Allegro

String Quartet No. 1 in A Minor, Op. 41: II. Scherzo. Presto

String Quartet No. 1 in A Minor, Op. 41: III. Adagio

String Quartet No. 1 in A Minor, Op. 41: IV. Presto

String Quartet No. 3 in A Major, Op. 41: I. Andante espressivo – Allegro molto moderato

String Quartet No. 3 in A Major, Op. 41: II. Assai agitato

String Quartet No. 3 in A Major, Op. 41: III. Adagio molto

String Quartet No. 3 in A Major, Op. 41: IV. Finale. Allegro molto vivace
Disk 2
String Quartet No. 2 in F Major, Op. 41: I. Allegro vivace

String Quartet No. 2 in F Major, Op. 41: II. Andante, quasi variazioni

String Quartet No. 2 in F Major, Op. 41: III. Scherzo. Presto

String Quartet No. 2 in F Major, Op. 41: IV. Allegro molto vivace

Piano Trio No. 2 in F Major, Op. 80: I. Sehr Lebhaft

Piano Trio No. 2 in F Major, Op. 80: II. Mit innigem Ausdruck

Piano Trio No. 2 in F Major, Op. 80: III. In mässiger Bewegung

Piano Trio No. 2 in F Major, Op. 80: IV. Nicht zu rasch

Fantasiestücke in A Minor, Op.88: I. Romanze. Nicht schnell, mit innigem Ausdruck

Fantasiestücke in A Minor, Op.88: II. Humoreske. Lebhaft

Fantasiestücke in A Minor, Op.88: III. Duett. Langsam und mit Ausdruck

Fantasiestücke in A Minor, Op.88: IV. Finale. In Marsch-Tempo
Disk 3
Piano Trio No. 1 in D Minor, Op. 63: I. Mit Energie und Leidenschaft

Piano Trio No. 1 in D Minor, Op. 63: II. Lebhaft, doch nicht zu rasch

Piano Trio No. 1 in D Minor, Op. 63: III. Langsam, mit inniger Empfindung

Piano Trio No. 1 in D Minor, Op. 63: IV. Mit Feuer

Piano Trio No. 3 in G Minor, Op. 110: I. Bewegt, doch nicht zu rasch

Piano Trio No. 3 in G Minor, Op. 110: II. Ziemlich langsam – Etwas bewegter – Schneller – Erstes Tempo

Piano Trio No. 3 in G Minor, Op. 110: III. Rasch

Piano Trio No. 3 in G Minor, Op. 110: IV. Kräftig, mit Humor