Soler: Complete Sonatas, Vol. 1 (Harpsichord Sonatas)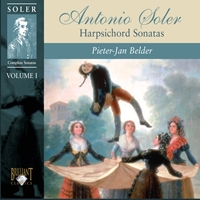 | | |
| --- | --- |
| Composer | Antonio Soler |
| Artist | Pieter Jan Belder harpsichord |
| Format | 2 CD |
| Cat. number | 93758 |
| EAN code | 5028421937588 |
| Release | January 2008 |
About this release
After having scaled the musical Everest that is Domenico Scarlatti's 555 keyboard sonatas, Pieter-Jan Belder turned his attention to Scarlatti his Spanish contemporary, Antonio Soler. Soler's productivity was hardly less astonishing, especially as a monk at the abbey of El Escorial required to spend much of his time either in contemplation or directing the abbey's music. In this capacity he would most likely have met Scarlatti, as the latter accompanied his royal patrons to their summer retreat at El Escorial. Soler's keyboard sonatas are also bipartite constructions, with new twists of harmony and invention around each unexpected corner. This first volume is completed by one of the most curious of all harpsichord works, a Fandango with a slowly evolving, hypnotic effect that has more than once been compared to Ravel's Boléro.

Additional information:
- Recorded in 2007.
- "Belder benefits from a grateful recorded sound…his playing in general is characterised by bold perkiness and energy" (Gramophone on Belder's Scarlatti cycle).
Track list
Disk 1
Fandango

Sonata No. 100 in C Minor : Adagio - Largo

Sonata No. 103 in C Minor : Allegro Presto

Sonata No. 117 in D Minor

Sonata No. 84 in D Major: Allegro

Sonata No. 118 in A Minor : Allegro

Sonata No. 47 in C Minor : Andantino

Sonata No. 48 in C Minor : Allegro

Sonata No. 6 in F Major : Presto

Sonata No. 115 in D Minor

Sonata No. 116 in G Major : Allegro
Disk 2
Sonata No. 110 in D Flat Major : Largo Cantabile

Sonata No. 88 in D Flat Major : Allegro

Sonata No. 20 in C Sharp Minor : Andantino

Sonata No. 21 in C Sharp Minor : Allegro

Sonata No. 85 in F Sharp Minor : Allegretto

Sonata No. 90 in F Sharp Minor : Allegro

Sonata No. 1 in A Major : Allegro

Sonata No. 120 in D Minor : Allegro Spirituoso

Sonata No. 4 in G Major : Allegro

Sonata No. 119 in B Flat Major : Allegro Airoso

Sonata No. 80 in G Minor : Allegretto

Sonata No. 81 in G Minor : Prestissimo

Sonata No. 18 in C Minor : Cantabile

Sonata No. 19 in C Minor : Allegro Moderato