Soler: Complete Sonatas, Vol. 2 (Harpsichord Sonatas)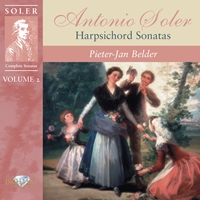 | | |
| --- | --- |
| Composer | Antonio Soler |
| Artist | Pieter-Jan Belder harpsichord |
| Format | 2 CD |
| Cat. number | 93978 |
| EAN code | 5028421939780 |
| Release | February 2010 |
About this release
Antonio Francisco Xavier Joseph Soler was born in 1729 in the Spanish province of Tarragona, the son of an army musician. His earliest musical instruction came from his father, who took him to the Abbey of Montserrat, where he was encouraged to join the choir at the age of six. Here, he became highly proficient on the organ, and studied composition. It may have been this early exposure to religious life that made the young Soler to decide to spend the rest of his life in the church. He accepted various musical posts in the church, including organist at El Escorial. He became a novice there in 1752, deacon, priest and chapel master – the latter position after 1757. He was requested by King Carlos III to teach his two sons Gabriel and Antonio. Antonio was the more musical of the princes, and for him Soler composed his 6 concertos for two organs.

Other information:
- Recorded in 2009.
- Eighteen sonatas by one of the most enigmatic but important keyboard composers of the 18th Century.
- Booklet notes included on Soler and each sonata.
Track list
Disk 1
Sonata R. 69 in F Major: Presto

Sonata R. 70 in A Minor: (Allegro)

Sonata R. 71 in A Minor: Andantino

Sonata R. 72 in F Minor: Allegro

Sonata R. 73 in D Major: Allegro

Sonata R. 74 in D Major: Andante

Sonata R. 75 in F Major: Andante

Sonata R. 76 in F Major: Allegro

Sonata R. 77 in F sharp Minor: Andante largo

Sonata R. 78 in F sharp Minor: Allegro ma non tanto
Disk 2
Sonata R. 79 in F sharp Major: Cantabile – Allegro

Sonata M(arvin) 23 in C Minor: Cantabile

Sonata M. 24 in C Minor: Allegro

Sonata M. 25 in B flat Major: Cantabile – Andantino

Sonata M. 29 in D Minor: Allegretto

Rondo M. 36 in E Minor: Andante – Allegro

Sonata M. 38 in G Minor: Allegro

Sonata M. 44 in E flat Major: Andante – Allegro