Staehle: Mädchenliebe, Songs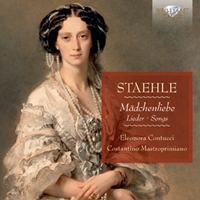 Composer
Hugo Staehle
Artist
Eleonore Contucci soprano
Costantino Mastroprimiano fortepiano
Format
1 CD
Cat. number
94492
EAN code
5028421944920
Release
January 2014
About this release
Hugo Staehle (1826–1848) is one of the unsung composers of late–Romantic Germany. After being taught by Hauptmann and Deichert, pupils of Louis Spohr, Staehle was later taken on by Spohr himself, who praised the young German's outstanding talent. Among the listed works from the composer's short life are the opera Arria and the Symphony No.1 in C minor. This disc brings together two collections of his songs, performed by acclaimed soprano Eleonora Contucci and veteran fortepianist Costantino Mastroprimiano – the latter in full command of the wonderful 18th-century Graf fortepiano, since its build in the possession of the Contucci family.

The first of the song collections, Six Lieder for soprano or tenor with pianoforte accompaniment Op.2, is based on texts by Heinrich Heine and Emanuel Geibel, and was published, with the help of the composer's family, after his death. It is is followed on the album by Marcia, an intermezzo for piano, and subsequently by the Eight German Lieder by Emanuel Geibel for voice with pianoforte accompaniment. Each of the song collections ends with an unpublished prayer – the first, 'Zu dir in deiner Himmelspracht', is based on Jacob Hoffmeister's text, and the second, 'Gebet während der Schlacht', on a text by Theodor Körner.

Other information:
- Recorded in 2011 and 2012.
- Hugo Staehle was an extremely gifted and promising composer, who died far too young, he lived from 1826 till 1848. A pupil of the famous Louis Spohr he settled in Dresden, where he met famous musicians and composers, like the violinist Ferdinand David, Ferdinand Hiller and Robert and Clara Schumann.
- Staehle's few surviving works include a grand scale opera, a piano quartet and several song cycles, a selection of which is presented on this new recording. They were composed for the fast-emerging middle class, where music was a important part of the social culture. The songs are modelled on Schumann's lieder, in mood ranging from charm and "Sehnsucht" to heroic pathos and tragedy.
- Sung by Italian soprano Eleonora Contucci, accompanied on the fortepiano by Costantino Mastroprimiano. Recorded in the splendid and suitable environment of the Palazzo Contucci, the piano a magnificent 1826 Broadwood. The artists also appear together on the earlyer release 'Burgmüller: Lieder - Piano Sonata, Op. 8' (BC94244).
- Booklet contains detailed notes on the music, artist biographies, sung texts and information on the Graf fortepiano (1826).
Track list
Disk 1
Six Lieder for Soprano or Tenor with Pianoforte Accompaniment Op. 2: No. 1, Frühlingsgruß in D Major (Andante)

Six Lieder for Soprano or Tenor with Pianoforte Accompaniment Op. 2: No. 2, Frühling in G Major (Allegretto)

Six Lieder for Soprano or Tenor with Pianoforte Accompaniment Op. 2: No. 3, Lied in A Minor (Mesto)

Six Lieder for Soprano or Tenor with Pianoforte Accompaniment Op. 2: No. 4, O stille dies Verlangen in D-Flat Major (Andante)

Six Lieder for Soprano or Tenor with Pianoforte Accompaniment Op. 2: No. 5, Ich hab' im Traum geweinet in G Minor (Andante)

Six Lieder for Soprano or Tenor with Pianoforte Accompaniment Op. 2: No. 6, Mädchenliebe in E Major (Andante ma non troppo)

Gebet in G Major (Andante)

Marcia

Eight German Lieder by Emanuel Geibel for Voice with Pianoforte Accompaniment: No. 1, Gondoliera in C-Sharp Minor (Andante sostenuto)

Eight German Lieder by Emanuel Geibel for Voice with Pianoforte Accompaniment: No. 2, Vorwärts in C Major (Moderato, Common Time)

Eight German Lieder by Emanuel Geibel for Voice with Pianoforte Accompaniment: No. 3, Sehnsucht

Eight German Lieder by Emanuel Geibel for Voice with Pianoforte Accompaniment: No. 4, Beim Feste

Eight German Lieder by Emanuel Geibel for Voice with Pianoforte Accompaniment: No. 5, Abendfeier in Venedig

Eight German Lieder by Emanuel Geibel for Voice with Pianoforte Accompaniment: No. 6, Lied

Eight German Lieder by Emanuel Geibel for Voice with Pianoforte Accompaniment: No. 7, O stille das Verlangen

Eight German Lieder by Emanuel Geibel for Voice with Pianoforte Accompaniment: No. 8, Des Müden Abendlied

Gebet während der Schlacht in F Minor (Allegro vivace, Common Time)