Steffani: Lagrime Dolorose, Secular Cantatas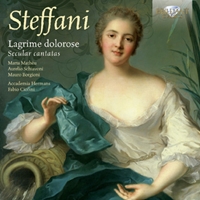 Composer
Agostino Steffani
Artist
Marta Mathéu soprano
Aurelio Schiavoni alto
Mauro Borgioni bass
Accademia Hermans
Fabio Ciofini organ, harpsichord & direction
Format
1 CD
Cat. number
94299
EAN code
5028421942995
Release
December 2013
About this release
Taking its cue from the rediscovered union between music and words, the cantata underwent a serious transformation during the 17th century, giving voice to affetti (the language of emotions) through adopting a range of formal structures that adhered to the poetic text in question. The genre became the brand name of composers considered Italian – including Agostino Steffani, one of the leading opera composers of Scarlatti's generation. Having trained as a priest, Steffani spent the majority of his career balancing between musical and ecclesiastical duties (which were not always reconcilable). His output, besides approximately 20 operas, includes sacred music, instrumental works and collections of cantatas for one to three voices.

Among the latter, the Sei scherzi a voce sola con accompagnamento di piffari o di violini – the subject of this recording – holds a special place, with the conventionality of the poetic texts (all of which refer to the idyllic pastoral sphere) contrasting strongly against the composer's often highly unconventional musical choices. From the recitatives to the cavatas and arias, the text is continually masterfully rendered, thanks also to the refined use of instruments that accompany the voices and which are also used independently (in the preludes and refrains). In these works, therefore, we observe the skills of an opera composer but also those of an excellent contrapuntist, the influences of instrumental models (Corelli) as well as vocal ones (Scarlatti, Carissimi), and the Italian roots and openness to a European context in which the role of this indefatigable bishop-composer merits reassessment. Founded in 2000, the Umbria-based Accademia Hermans – an ensemble specifically dedicated to the early repertoire – breathes new life into these musical gems, works which document the rise of a genre that became the principal form of Italian Baroque vocal chamber music.

Other information:
- Recorded 6, 7 & 8 August 2012, Teatro Cucinelli di Solomeo, Perugia, Italy.
- Thanks to the advocacy of world star Cecilia Bartoli (her bestselling album "Mission") the music of Agostino Steffani enjoys a glorious resurrection. This newly recorded CD contains the 6 Secular Cantatas for vocal soloists and a group of instruments, both strings and winds.
- Steffani was a priest and composer of mainly vocal music, his spectacular operas were famous in his time. The Cantatas are based on poetry of a pastoral character, and contain virtuoso parts for the soloists, the instrumental group giving support in rich harmonies and counterpoint.
- Beautiful singing of three highly talented young vocalists, well known names in the world of Early Music, and the Accademia Hermans, the Italian period instruments group, who have already worked with great vocalists like Roberta Invernizzi and Gloria Banditelli.
- Booklet in English and Italian, containing liner notes, biographies and sung texts.
Track list
Disk 1
Cantata for Soprano, 2 Violins and Basso Continuo: Fileno, idolo mio

Cantata for Soprano, 2 Oboes and Basso Continuo: Hai finito di lusingarmi

Cantata for alto, 2 Violins and Basso Continuo: Il più felice e sfortunato amante

Cantata for Soprano, Oboe, Dulcian and Basso Continuo: Spezza amor l'arco e gli strali

Cantata for Bass, 2 Recorders and Basso Continuo: Lagrime dolorose

Cantata for Soprano, 2 Violins and Basso Continuo: Guardati, o core