Tchaikovsky: Cherevichki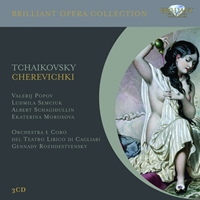 Download booklet
Composer
Piotr Ilyich Tchaikovsky
Artist
Valerij Popov tenor
Ludmila Semciuk mezzo soprano
Albert Schagidullin baritone
Ekaterina Morosova soprano
Orchestra e Coro del Teatro Lirico di Cagliari
Gennady Rozhdestvensky conductor
Format
3 CD
Cat. number
94375
EAN code
5028421943756
Release
June 2012
About this release
Despite Tchaikovsky's conviction that his eighth complete opera – Cherevichki – was his 'finest work', deserving of a prime place in the opera repertoire, listeners outside Russia have never demonstrated the enthusiasm and appreciation that the composer evidently felt was merited. After its initial performances, Cherevichki was not staged again during Tchaikovsky's lifetime, but as this fine release – one of the only recordings on the market today – attests, the work is ripe for rediscovery.
A revision of the earlier work Vakula the Smith, the opera tells the story of Vakula, whose courtship of his beloved Oksana is thwarted by Bes, a devil. Oksana will only give her love in exchange for the Tsarina's shoes, so Vakula embarks upon a journey to the palace, where he hopes to outsmart Bes's diabolical schemes and obtain the shoes through his own cunning. Although listeners will be delighted by the moments of luminous orchestral beauty, sumptuous arias and sparkling dances that are such a familiar part of Tchaikovsky's music, Cherevichki is surprising for its humour, which reveals the composer's masterful talent for characterisation.
Blending comedy, fantasy, colour, elegance and allusions to Russian folksong, Cherevichki gives voice to the many facets of Tchaikovsky's compositional skill. With this fantastic new addition to the Brilliant Classics Opera Collection, listeners can rediscover one of his forgotten operatic masterpieces, performed with skill and imagination under the esteemed direction of Gennady Rozhdestvensky.

Other Information:
- New addition to the Brilliant Opera Collection, recorded live in January 2000, Teatro Lirico, Cagliari, Italy.
- A superb live performance with vibrant Russian voices, directed by veteran Gennadi Rozhdestvensky.
- 'There are plenty of emotionally intense moments, especially from Vakula, sung with tremendous feeling by Valerij Popov… The live recording balances the voices (including the excellent chorus) and orchestra very well'. 10/10 for Artistic Quality and Sound Quality. ClassicsToday.com.
- Includes comprehensive booklet notes.
- English libretto available at www.brilliantoperacollection.com.
Track list
Disk 1
Cherevichki: Overture

Cherevichki: Act 1: Scene 1: Ah, how silvery the moon shines (Solocha/Bes)

Cherevichki: Act 1: Scene 1: She's got really warmed up (Bes/Solocha/Chorus of Spirits/Cub/Panas)

Cherevichki: Act 1: Scene 2: Just look at the snowstorm (Oksana)

Cherevichki: Act 1: Scene 2: A little apple tree was blossoming in the garden (Oksana)

Cherevichki: Act 1: Scene 2: She never takes her eyes off herself (Vakula/Oksana)

Cherevichki: Act 1: Scene 2: Just look at you! (Oksana/Cub/Vakula)

Cherevichki: Act 1: Scene 2: What's all this noise? (Oksana/Vakula)

Cherevichki: Act 1: Scene 2: If only people were a bit more intelligent (Oksana/Vakula/Chorus)
Disk 2
Cherevichki: Act 2: Scene 1: Intermezzo

Cherevichki: Act 2: Scene 1: The storm has swept my broomstick away (Solocha/Bes)

Cherevichki: Act 2: Scene 1: Now that's what I call snow! (Golova/Solocha)

Cherevichki: Act 2: Scene 1: Is anyone in? (Schoolmaster/Solocha)

Cherevichki: Act 2: Scene 1: A woman runs after the devil (Schoolmaster/Solocha)

Cherevichki: Act 2: Scene 1: Greetings! (Cub/Solocha/Vakula)

Cherevichki: Act 2: Scene 1: I don't feel well… (Schoolmaster/Solocha/Bes/Golova/Cub/Vakula)

Cherevichki: Act 2: Scene 1: A year has gone by… (Vakula)

Cherevichki: Act 2: Scene 2: Good evening! (Chorus)

Cherevichki: Act 2: Scene 2: Oksana, why are you so late? (Chorus/Oksana/Vakula)

Cherevichki: Act 2: Scene 2: My shoes aren't very big (Oksana/Chorus)

Cherevichki: Act 2: Scene 2: Ah, Vakula, you're here again (Oksana/Vakula/Chorus/Cub)
Disk 3
Cherevichki: Act 3: Scene 1: Intermezzo

Cherevichki: Act 3: Scene 1: It is dark, too dark (Chorus of Undines/Wood Spirit)

Cherevichki: Act 3: Scene 1: Where have I come to? (Vakula)

Cherevichki: Act 3: Scene 1: Who knows, my girl, if your heart can feel may pain (Vakula/Bes)

Cherevichki: Act 3: Scene 2: We are there (Bes/Vakula/Old Cossack/Chorus/Guard)

Cherevichki: Act 3: Scene 3: Have I reached heaven? (Vakula/Master of Ceremonies/Chorus of Cossacks/His Serene Highness/Chorus of Courtiers) - Before we start the dances (His Serene Highness/Chorus of Courtiers)

Cherevichki: Act 3: Scene 3: Minuet: Did you have a good journey? (His Serene Highness/Chorus of Cossacks/Vakula)

Cherevichki: Act 3: Scene 3: Russian dance

Cherevichki: Act 3: Scene 3: Cossack dance

Cherevichki: Act 3: Scene 3: In the Tsarina's family theatre (Master of Ceremonies/Bes/Vakula)

Cherevichki: Act 4: Some say he threw himself into the river! (Solocha/Oksana)

Cherevichki: Act 4: Finale: We invite you to our house (Chorus of Women/Oksana/Chorus of Men)

Cherevichki: Act 4: Finale: If you want to drink honey (Chorus/Cub/Golova/Panas/Solocha/Vakula)

Cherevichki: Act 4: Finale: Strong winds, do not blow in the thick woods (Chorus/Oksana/Solocha/Vakula/Cub)