Vierne: 12 Preludes, Solitude, Nocturne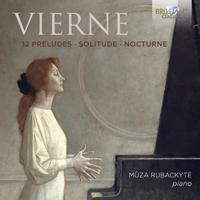 | | |
| --- | --- |
| Composer | Louis Vierne |
| Artist | Mūza Rubackytė piano |
| Format | 1 CD |
| Cat. number | 95154 |
| EAN code | 5028421951546 |
| Release | August 2015 |
About this release
The striking cover image is of the soloist on this recording, the Lithuanian pianist Mūza Rubackytė, who has already made several well-received recordings for Brilliant Classics, among them chamber works (BC93716) and piano music (BC93702) by César Franck, the better-known contemporary of Louis Vierne featured on this disc.

Vierne is well-enough known to organists, not least for the ever-popular Carillon de Westminster, but his piano music is well worth exploring. The 12 Preludes sprawl across the French post-Wagnerian tradition that encompasses not just Franck but Magnard and Reyer, full of long melodies and crashing, Lisztian octaves as well as glittering, impressionistic sequences. They demand and here receive a formidable technique and bold interpretative approach. Solitude is a four-movement suite which builds from a gloomy, organ-prelude like first movement to a 'Hallucinatory vision' and a 'fantastical rondo' finale worthy of Berlioz himself.

Rubackyte contributes her own booklet note, which is not only authoritative on Vierne's music but well worth reading for the vicissitudes of Vierne's life. Here she is on his demise: 'When the organ [of Notre-Dame] was finally restored several years later, he had to fight hard to prevent it being done inadequately and on the cheap. And it was at the console of the restored instrument that Vierne's life fittingly ended. On 2 June 1937, he slowly and painfully climbed up to the organ tribune, accompanied by Maurice Duruflé, who was to assist him in what was to be his 1750th organ recital. After performing the opening piece, his Tripytque, he was about to begin the improvisation when he slumped forward, his foot depressing the E pedal which sounded a long mournful note through the cathedral as his life ebbed away.'

A must-hear for fans of the Romantic Piano.

It is no wonder that Louis Vierne (1870-1937), having been taught by César Franck and Widor, became a famous organist. His most important post was that of the Notre Dame in Paris, where he was celebrated for his improvisations. As a composer of piano music he indulged in the post-Wagnerian language of his era: highly complicated counterpoint, dense, chromatic harmonies and an exalted, spiritual atmosphere characterise his works.
Lithuanian pianist Mūza Rubackytė is a strong advocate of Vierne, having already successfully recorded for Brilliant Classics works by Franck and Shostakovich. She masters the considerable technical difficulties with apparent ease, and has a keen sense of structure and colour.
The cover shows a remarkable painting of the artist, conceived in similar style as the music of Vierne, striking!
Track list
Disk 1
12 Preludes, Op. 36 livre 1: I. Prologue

12 Preludes, Op. 36 livre 1: II. Tendresse

12 Preludes, Op. 36 livre 1: III. Pressentiment

12 Preludes, Op. 36 livre 1: IV. Suvenir d'un jour de joie

12 Preludes, Op. 36 livre 1: V. Nostalgie

12 Preludes, Op. 36 livre 1: VI. Par gros temps

12 Preludes, Op. 36 livre 2: VII. Evocation d'un jour d'angoisse

12 Preludes, Op. 36 livre 2: VIII. Dans la nuit

12 Preludes, Op. 36 livre 2: IX. Suprème appel

12 Preludes, Op. 36 livre 2: X. Sur une tombe

12 Preludes, Op. 36 livre 2: XI. Adieu

12 Preludes, Op. 36 livre 2: XII. Seul

Solitude, Op. 44: I. Hantise

Solitude, Op. 44: II. Nuit blanche

Solitude, Op. 44: III. Vision allucinante

Solitude, Op. 44: IV. La ronde fantastique des revenants

Nocturne No. 3, Op. 35