Beethoven: Harris Goldsmith plays Beethoven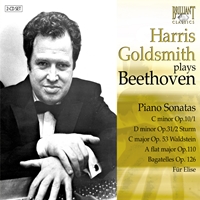 | | |
| --- | --- |
| Composer | Ludwig van Beethoven |
| Artist | Harris Goldsmith piano |
| Format | 2 CD |
| Cat. number | 93092 |
| EAN code | 5028421930923 |
| Release | April 2006 |
About this release
A rare opportunity tot hear Harris Goldsmith's temperamental and brilliant Beethoven interpretations. His is an unusual approach to some of these classical sonatas. Especially remarkable is the large-scale overall concept on which his interpretations are based.

New Yorker Goldsmith has a versatile talent; he is not just a pianist. He is also an author, a critic and a musicologist. For quite some years he has been teaching chamber music as well at the Mannes College of Music in New York. He also regularly writes reviews.

Other information:
- Recorded between 1970 and 1981.
Track list
Disk 1
Piano Sonata, No. 5 in C Minor, Op. 10/1: Allegro molto e con brio

Piano Sonata, No. 5 in C Minor, Op. 10/1: Adagio molto

Piano Sonata, No. 5 in C Minor, Op. 10/1: Finale, prestissimo

Piano Sonata, No. 21 in C Major, Op. 53, Waldstein: Allegro con brio

Piano Sonata, No. 21 in C Major, Op. 53, Waldstein: Introduzione, adagio molto

Piano Sonata, No. 21 in C Major, Op. 53, Waldstein: Rondo, allegretto moderato-prestissimo

Piano Sonata, No. 31 in A-Flat Major, Op. 110: Moderato cantabile molto espressivo

Piano Sonata, No. 31 in A-Flat Major, Op. 110: Allegro molto

Piano Sonata, No. 31 in A-Flat Major, Op. 110: Adagio ma non troppo

Piano Sonata, No. 31 in A-Flat Major, Op. 110: Fuga, allegro ma non troppo-l'istesso tempo di arioso-l'istesso tempo della fuga-meno allegro poi a poi di nuovo vivente
Disk 2
Piano Sonata, No. 17 in D Minor, Op. 31/2, "Sturm": Largo-allegro

Piano Sonata, No. 17 in D Minor, Op. 31/2, "Sturm": Adagio

Piano Sonata, No. 17 in D Minor, Op. 31/2, "Sturm": Allegretto

Ziemlich lebhaft, in B-Flat Major, WoO 60

Allegretto für Piringer, in B Minor, WoO 61

Albumblatt in A Minor, WoO 59, "Für Elise"

6 Bagatelles, Op. 126: No. 1 in G Major

6 Bagatelles, Op. 126: No. 2 in G Minor

6 Bagatelles, Op. 126: No. 3 in E-Flat Major

6 Bagatelles, Op. 126: No. 4 in B Minor

6 Bagatelles, Op. 126: No. 5 in G Major

6 Bagatelles, Op. 126: No. 6 in E-Flat Major