Brahms: Complete Chamber Music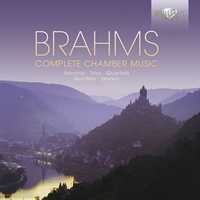 | | |
| --- | --- |
| Composer | Johannes Brahms |
| Artist | Various artists |
| Format | 12 CD |
| Cat. number | 94381 |
| EAN code | 5028421943817 |
| Release | July 2013 |
About this release
This extensive collection comprises the complete chamber works of Johannes Brahms. These works are often considered to be the finest offering of chamber music since that of Ludwig van Beethoven; a selection which perfectly captures the musical and creative personality of its composer. Many perceived Brahms as a true champion of the Classical tradition, although his works also show the influence of Franz Schubert, Brahms's most revered mentor. Thus Brahms's innovative tonality and expansive structures heralded an entirely new era of chamber music. The works showcase the evolution of Brahms's treatment of theme; sometimes combining several melodies at once, developing a theme as it was being presented or else presenting a theme again in recapitulation, but changing the mood or character, to evoke a totally different feel. The composer wrote for an abundance of chamber-music ensembles, bestowing the Piano Quartets Opp. 24 & 25 with qualities that are associated with much larger-scale works.

Among the many illustrious performers on this recording are the Brandis Quartett, Tokyo Quartet and The Nash Ensemble, alongside a host of other stellar instrumentalists.

Other information:
- Brahms' chamber music represents the core of his entire output. Listening to these undisputed masterworks one gets the impression this genius symphonist reserved his best inspirations for these sonatas, trios, quartets, quintets and sextets: what glorious melodies, what glowing harmonies and what instrumental mastery enchants and captures the listener!
- A uniform high artistic level (Tokyo Quartet, Nash Ensemble, Brandis Quartett, Isabelle Faust, György Pauk, Karl Leister and others) makes this set a highly desirable bargain!
- Liner notes on each work included in the booklet.
Track list
Disk
Disk 1
Violin Sonata No. 1 in G Major, Op. 78: I. Vivace ma non troppo

Violin Sonata No. 1 in G Major, Op. 78: II. Adagio – Più andante – Adagio

Violin Sonata No. 1 in G Major, Op. 78: III. Allegro molto moderato

Violin Sonata No. 2 in A Major, Op. 100: I. Allegro amabile

Violin Sonata No. 2 in A Major, Op. 100: II. Andante tranquillo – Vivace

Violin Sonata No. 2 in A Major, Op. 100: III. Allegretto grazioso

Violin Sonata No. 3 in D Minor, Op. 108: I. Allegro

Violin Sonata No. 3 in D Minor, Op. 108: II. Adagio

Violin Sonata No. 3 in D Minor, Op. 108: III. Un poco presto e con sentimento

Violin Sonata No. 3 in D Minor, Op. 108: IV. Presto agitato
Disk 2
Cello Sonata No. 1 in E Minor, Op. 38: I. Allegro non troppo

Cello Sonata No. 1 in E Minor, Op. 38: II. Allegretto quasi menuetto

Cello Sonata No. 1 in E Minor, Op. 38: III. Allegro

Cello Sonata No. 2 in F Major, Op. 99: I. Allegro vivace

Cello Sonata No. 2 in F Major, Op. 99: II. Adagio affettuoso

Cello Sonata No. 2 in F Major, Op. 99: III. Allegro passionato

Cello Sonata No. 2 in F Major, Op. 99: IV. Allegro molto
Disk 3
Clarinet Sonata No. 1 in F Minor, Op. 120: I. Allegro appassionato

Clarinet Sonata No. 1 in F Minor, Op. 120: II. Andante un poco adagio

Clarinet Sonata No. 1 in F Minor, Op. 120: III. Allegretto grazioso

Clarinet Sonata No. 1 in F Minor, Op. 120: IV. Vivace

Clarinet Sonata No. 2 in E-Flat Major, Op. 120: I. Allegro amabile

Clarinet Sonata No. 2 in E-Flat Major, Op. 120: II. Allegro appassionato

Clarinet Sonata No. 2 in E-Flat Major, Op. 120: III. Andante con moto – Allegro
Disk 4
Piano Trio No. 1 in B Major, Op. 8: I. Allegro

Piano Trio No. 1 in B Major, Op. 8: II. Scherzo. Allegro molto

Piano Trio No. 1 in B Major, Op. 8: III. Adagio

Piano Trio No. 1 in B Major, Op. 8: IV. Allegro

Piano Trio No. 3 in C Minor, Op. 101: I. Allegro energico

Piano Trio No. 3 in C Minor, Op. 101: II. Presto non assai

Piano Trio No. 3 in C Minor, Op. 101: III. Andante grazioso

Piano Trio No. 3 in C Minor, Op. 101: IV. Allegro molto
Disk 5
Piano Trio No. 2 in C Major, Op. 87: I. Allegro

Piano Trio No. 2 in C Major, Op. 87: II. Andante con moto

Piano Trio No. 2 in C Major, Op. 87: III. Scherzo: Presto

Piano Trio No. 2 in C Major, Op. 87: IV. Finale. Allegro

Horn Trio in E-Flat Major, Op. 40: I. Andante – Poco più animato

Horn Trio in E-Flat Major, Op. 40: II. Scherzo & Trio. Allegro

Horn Trio in E-Flat Major, Op. 40: III. Adagio mesto

Horn Trio in E-Flat Major, Op. 40: IV. Allegro con brio
Disk 6
Clarinet Trio in A Minor, Op. 114: I. Allergo

Clarinet Trio in A Minor, Op. 114: II. Adagio

Clarinet Trio in A Minor, Op. 114: III. Andante grazioso

Clarinet Trio in A Minor, Op. 114: IV. Allegro

Clarinet Quintet in B Minor, Op. 115: I. Allegro

Clarinet Quintet in B Minor, Op. 115: II. Adagio – Più lento

Clarinet Quintet in B Minor, Op. 115: III. Andantino – Presto non assai, ma con sentimento

Clarinet Quintet in B Minor, Op. 115: IV. Con moto
Disk 7
String Quartet No. 1 in C Minor, Op. 51: I. Allegro

String Quartet No. 1 in C Minor, Op. 51: II. Romanze. Poco adagio

String Quartet No. 1 in C Minor, Op. 51: III. Allegro molto moderato e comodo

String Quartet No. 1 in C Minor, Op. 51: IV. Allegro

String Quartet No. 2 in A Minor, Op. 51: I. Allegro non troppo

String Quartet No. 2 in A Minor, Op. 51: II. Andante moderato

String Quartet No. 2 in A Minor, Op. 51: III. Quasi minuetto

String Quartet No. 2 in A Minor, Op. 51: IV. Allegro non assai
Disk 8
String Quartet No. 3 in B-Flat Major, Op. 67: I. Vivace

String Quartet No. 3 in B-Flat Major, Op. 67: II. Andante

String Quartet No. 3 in B-Flat Major, Op. 67: III. Agitato – Allegretto non troppo

String Quartet No. 3 in B-Flat Major, Op. 67: IV. Poco allegretto con variazioni

Piano Quartet No. 1 in G Minor, Op. 25: I. Allegro

Piano Quartet No. 1 in G Minor, Op. 25: II. Intermezzo. Allegro ma non troppo

Piano Quartet No. 1 in G Minor, Op. 25: III. Andante con moto

Piano Quartet No. 1 in G Minor, Op. 25: IV. Rondo alla Zingarese
Disk 9
Piano Quartet No. 2 in A Major, Op. 26: I. Allegro non troppo

Piano Quartet No. 2 in A Major, Op. 26: II. Poco adagio

Piano Quartet No. 2 in A Major, Op. 26: III. Scherzo. Poco allegro

Piano Quartet No. 2 in A Major, Op. 26: IV. Finale. Allegro
Disk 10
Piano Quartet No. 3 in C Minor, Op. 60: I. Allegro non troppo

Piano Quartet No. 3 in C Minor, Op. 60: II. Scherzo. Allegro

Piano Quartet No. 3 in C Minor, Op. 60: III. Andante

Piano Quartet No. 3 in C Minor, Op. 60: IV. Finale. Allegro comodo

Piano Quintet in F Minor, Op. 34: I. Allegro non troppo

Piano Quintet in F Minor, Op. 34: II. Andante, un poco adagio

Piano Quintet in F Minor, Op. 34: III. Scherzo & Trio. Allegro

Piano Quintet in F Minor, Op. 34: IV. Poco sostenuto – Allegro non troppo
Disk 11
String Quintet No. 1 in F Major, Op. 88: I. Allegro non troppo, ma con brio

String Quintet No. 1 in F Major, Op. 88: II. Grave ed appassionato – Allegretto vivace – Tempo I – Presto – Tempo I

String Quintet No. 1 in F Major, Op. 88: III. Allegro energico

String Quintet No. 2 in G Major, Op. 111: I. Allegro non troppo, ma con brio

String Quintet No. 2 in G Major, Op. 111: II. Adagio

String Quintet No. 2 in G Major, Op. 111: III. Un poco allegretto

String Quintet No. 2 in G Major, Op. 111: IV. Vivace ma non troppo presto
Disk 12
String Sextet No. 1 in B-Flat Major, Op. 18: I. Allegro ma non troppo

String Sextet No. 1 in B-Flat Major, Op. 18: II. Andante, ma moderato

String Sextet No. 1 in B-Flat Major, Op. 18: III. Scherzo. Allegro molto

String Sextet No. 1 in B-Flat Major, Op. 18: IV. Rondo. Poco allegretto e grazioso

String Sextet No. 2 in G Major, Op. 36: I. Allegro non troppo

String Sextet No. 2 in G Major, Op. 36: II. Scherzo: Allegro non troppo, presto giocoso

String Sextet No. 2 in G Major, Op. 36: III. Poco adagio

String Sextet No. 2 in G Major, Op. 36: IV. Poco allegro