Brahms: Ein Deutsches Requiem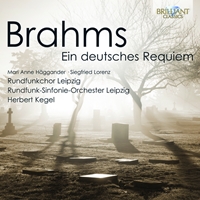 Composer
Johannes Brahms
Artist
Rundfunkchor Leipzig
Rundfunk-Sinfonie-Orchester Leipzig
Herbert Kegel conductor
Format
1 CD
Cat. number
94353
EAN code
5028421943534
Release
May 2012
About this release
One of the great choral works of the Western tradition, Brahms probably conceived his Ein deutsches Requiem – completed in 1868 – as a response to the passing of his mother as well as the tragic death of his close friend and mentor, Robert Schumann. The composition is the German's largest in any medium, and one that was quick to enter the classical canon: first performed in 1869 to rave reviews, it is a masterpiece of technique and affect that continues to thrill both audiences and singers around the world.

What makes Ein deutsches Requiem unique is Brahms' unusual decision to compile the text himself; based on various passages of the Lutheran Bible, it's not so much a requiem for the dead as one for the living – with the composer commenting that he could have happily exchanged the word 'deutsches' for 'human'. The work is cast in seven movements and is arrestingly performed by the Rundfunkchor/Sinfonie-Orchester Leipzig. Featuring a soprano and baritone soloist, it takes as its musical basis two principal ideas, which, after initial statements, are subject to repeated development throughout the piece. From the second movement's heavy funeral march rhythms to the pivotal fourth's serene pastorale and the dramatically imposing nature of the sixth, Brahms touches on an array of emotions that reflect the arch-like nature of the composition.

Like all great music, Ein deutsches Requiem contains a universal message that goes beyond the circumstances of the work's conception, and which is beautifully communicated in this recording. Full of symphonic breadth and effectively responsible for confirming Brahms' status as a composer of international repute, it's a piece that deserves to be an essential part of any serious listener's library.

Other information:
- Recording made in October 1985.
- For too long a gap in the Brilliant Classics catalogue, we are happy to present a superb recording of Brahms' sacred masterwork: Ein deutsches Requiem.
- Includes booklet notes in English and German, as well as sung texts.
- Conducted by the great German conductor Herbert Kegel, and excellent soloists Mari-Anne Häggander and Siegfried Lorenz.
Track list
Disk 1
A German Requiem, Op. 45, to the words of the Holy Scripture: Selig sind, die da Leid tragen

A German Requiem, Op. 45, to the words of the Holy Scripture: Denn alles Fleisch, es ist wie Gras

A German Requiem, Op. 45, to the words of the Holy Scripture: Herr, lehre doch mich

A German Requiem, Op. 45, to the words of the Holy Scripture: Wie lieblich sind deine Wohnungen

A German Requiem, Op. 45, to the words of the Holy Scripture: Ihr habt nun Traurigkeit

A German Requiem, Op. 45, to the words of the Holy Scripture: Denn wir haben hie keine bleibende Statt

A German Requiem, Op. 45, to the words of the Holy Scripture: Selig sind die Toten, die in dem Herren sterben