Bruhns: Complete Cantatas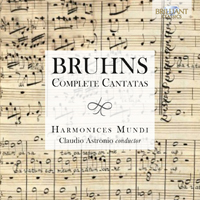 Composer
Nicolaus Bruhns
Artist
Harmonices Mundi
Claudio Astronio conductor
Format
2 CD
Cat. number
95138
EAN code
5028421951386
Release
June 2016
About this release
Nicolaus Bruhns died at the age of just 32, but his influence on the North-German musical landscape in the generation before Bach was profound, not least on Johann Sebastian himself. Only 17 works survive, including the 12 sacred cantatas presented here. They were composed between 1689 and 1697, doubtless to specific commissions which have been lost, but given their diverse forms and forces, for varied situations. As the scores themselves reveal, the musicians with whom Bruhns worked varied considerably, some of them being of modest skill, while others where impressive virtuoso players.

Despite this variety, however, Bruhns's cantatas did not lack formal rigour. While his harmony and voice-leading was Germanic in sensibility, his airy use of themes was more Italianate, suggesting that Bruhns had been in contact with Italian musicians while employed at the Danish court. Several of the cantatas have vocal parts of truly instrumental virtuosity such as Jauchzet dem Herren, alle Welt, one of the most demanding tenor parts within the genre, anticipating Bach's solo soprano cantata Jauchzet allem Gott BWV51. Other cantatas also prefigure the Cantor of Leipzig with their ornate instrumental obbligato parts, such as the violin solo in the bass cantata Mein Herz ist bereit: the musicians involved may well have included Johann von Wethoff and Heinrich Biber, who are now remembered as composers but were among the most skilled instrumentalists of their day.

Taking the set in the round, it offers a valuable opportunity to understand better the culture in which Bach was nurtured. The melodic simplicity of Hemmt eure Trähnenfluht almost seems to evoke the severity of the Lutheran liturgy, shorn of embellishment and the decorative component so dear to the Mediterranean composers. Harmonices Mundi and Claudio Astronio have made several well-received albums of Baroque repertoire for Brilliant Classics, among them three album of Alessandro Stradella: arias (BC94258), duets (BC94343) and the oratorio Susanna (BC94345).

Nicolaus Bruhns (1665-1697) was born in Denmark, where he caught the attention of Buxtehude, becoming his most talented and favourite pupil. He became composer at the Danish Royal Court when his untimely death at age 31 ended a splendid career. Many works by Bruhns have been lost. The young Johann Sebastian Bach has a great admiration for the vocal works by Bruhns, and their influence may be clearly seen in Bach's early works.
This new recording presents the complete Cantatas by Bruhns, written in the "Stylus Phantasticus" displaying a notable freedom of form and expression of feeling.
Performed by 4 excellent vocal soloists and the Harmonices Mundi, conducted by Claudio Astronio, who already recorded successfully for Brilliant Classics works by Handel, Cabezon (complete works) Wilhelm Friedemann Bach and Stradella.
Track list
Disk 1
Paratum cor meum

Hemmt eure Tränenflut

De profundis clamavi in A Minor

Die Zeit meines Abschieds ist vorhanden

Jauchzet dem Herren alle Welt

O werter heil'ger Geist
Disk 2
Mein Herz ist bereit

Ich liege und schlafe

Erstanden ist der heilige Christ

Wohl dem, der den Herren fürchtet

Der Herr hat seinen Stuhl im Himmel bereitet

Muss nicht der Mensch auf dieser Erden im steten Streite sein