Chopin: Piano Concertos 1 & 2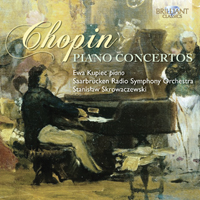 Composer
Frédéric Chopin
Artist
Ewa Kupiec piano
Saarbrücken Radio Symphony Orchestra
Stanislaw Skrowaczeski conductor
Format
1 CD
Cat. number
95106
EAN code
5028421951065
Release
October 2015
About this release
Stanisław Skrowaczewski, world-renowned conductor, is incensed that Chopin's Piano Concertos are compared so unfavourably to those by other composers, and on this recording he does a masterful job of setting the reputation of these works to rights. The First Concerto dances along with vivacity and outstanding joie de vivre, containing as it does elements of a variety of Polish dances. In the Second Concerto, the composer's deep understanding of the piano and its colours comes to the fore: his use of harmony is remarkably innovative for its time, pointing far ahead into the future. Chopin shows himself to be the supreme composer for piano, with the soloist well supported by some sublime orchestral writing. Because of Chopin's penchant for writing the accompaniment on the second piano score, the music has been carefully reconstructed by Chopin scholars, to glorious effect. Polish pianist Ewa Kupiec, compatriot of Stanisław Skrowaczewski, is regularly invited to perform at the world's leading classical music festivals, with the Frankfurter Allgemeine Zeitung praising her 'faultless technique' and 'ability to shape music with transparency and … impressive richness of colours'. She feels a deep connection to Chopin and other Polish composers, and gave three different Chopin recitals in honour of the 200th anniversary of the composer's birth. Here she is accompanied by the magnificent Saarbrücken Radio Symphony Orchestra, which was founded in 1937 and is regularly heard throughout Europe thanks to its involvement in the Deutsch-Französische Konzerte radio series.

Chopin's ever popular piano concertos played and conducted by two Poles: pianist Ewa Kupiec and conductor Stanislav Skrowaczewski.
The Polish element in Chopin's concertos is best evident in their third movements: characteristics of the Polish national dances Mazurka and Polonaise abound in these brilliant finales. Both concertos enjoy universal and wide popularity, and count among the most frequently played concertos of the entire repertoire.
"Infinitely nuanced, performance: 9" writes Classicstoday.com about soloist Ewa Kupiec, and conductor Stanislaw Skrowaczewski receives special mention for his excellent and serious treatment of the orchestral score, which in other performances might be treated as minor accompaniment: "Unfailingly supportive, vibrant and alive" (Classicstoday.com).

Other information:
Notes on the pieces.
Special note by Stanisław Skrowaczewski on the performance history of the works.
Track list
Disk 1
Piano Concerto No. 1 in E Minor, Op. 11: I. Allegro maestoso

Piano Concerto No. 1 in E Minor, Op. 11: II. Larghetto

Piano Concerto No. 1 in E Minor, Op. 11: III. Rondo. Vivace

Piano Concerto No. 2 in F Minor, Op. 21: I. Maestoso

Piano Concerto No. 2 in F Minor, Op. 21: II. Larghetto

Piano Concerto No. 2 in F Minor, Op. 21: III. Allegro vivace