Clarinet Concertos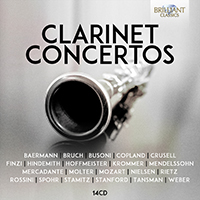 Download booklet
| | |
| --- | --- |
| Artist | Various artists |
| Format | 14 CD |
| Cat. number | 95787 |
| EAN code | 5028421957876 |
| Release | September 2018 |
About this release
Many of the composers in this set wrote for the clarinet at times when the orchestral status and design of the instrument were still in transition: the 18th century saw the gradual establishment of the clarinet as a more-or-less standard orchestral feature, its range being continually expanded in parallel.

Of course, nobody was more aware of these evolutions than clarinettists themselves, who are represented here by two instrumentalist–composers, the Swedish-Finnish Bernhard Crusell, whose three concertos make use of the clarinet's full range, and Heinrich Baermann, the dedicatee of Weber's works blessed with a wonderful personal idiom.

Other names which may be less familiar to listeners include Charles Villiers Stanford, a leading figure in the late-19th-century renaissance of British music who is often overshadowed by Elgar and Vaughan Williams, and Julius Rietz, most closely associated with Mendelssohn, both of whom contribute concertos with clear influences (Brahms and Mendelssohn respectively) that still retain their individuality.

Mendelssohn himself is not often associated with the clarinet, but features here via his Concert Pieces for clarinet, basset horn and piano, alongside other unexpected figures such as Rossini and Mercadante (both better known for their operas) and Franz Anton Hoffmeister, most famous as a music publisher. The other multiple-soloist compositions come from the pen of Carl Stamitz, a prolific composer who contributed more than ten concertos featuring the clarinet. Equally prolific was Franz Krommer, whose concertos are among the most unpredictable and imaginative in the set.

Also notable for its innovative style is Copland's concerto, influenced by jazz and written in response to a commission from famous jazz clarinettist Goodman. By contrast, Bruch, despite living through the diverse innovations of the late 18th and early 19th century, remained steadfast and consistent in his compositional approach.

The history of the Clarinet concertos goes back to the middle of the 18th century, when the instrument got its prominent solo place in the orchestra. The present-day form of the clarinet is derived from the Chalumeau, a folk instrument played by shepherds. Technical improvements by Denner, Boehm and Klosé gave it its modern form. Ever since its multi faced timbre, from soothingly murmuring to nervously chattering, has won a large popularity and has inspired many composers to write extensively for it.
This 14-disc set encompasses the full spectrum of concertante clarinet writing: an extensive collection of Clarinet Concertos, from the very first concertos by Molter, the most famous one by Mozart, Hoffmeister, Baermann, Stamitz, Krommer, Crusell, Mercadante, Rietz, Rossini, Bruch, Weber, Stanford, and well into the 20th century with Hindemith, Busoni, Finzi, Copland and Tansman.
Played by world renowned clarinetist like Dieter Klöcker, Sharon Kam, Kálmán Berkes, Davide Bandieri, Maria du Toit and Giovanni Punzi.
Another treasure trove in the successful series of Brilliant Classics instrument Boxes! Previous boxes featured the oboe, trumpet, flute and horn.
Listening
Track list
Disk 1
Johann Melchior Molter: Clarinet Concerto No. 5 in D Major, MWV 6.36: I. Allegro

Johann Melchior Molter: Clarinet Concerto No. 5 in D Major, MWV 6.36: II. Andante

Johann Melchior Molter: Clarinet Concerto No. 5 in D Major, MWV 6.36: III. Tempo di menuetto

Johann Melchior Molter: Clarinet Concerto No. 1 in A Major, MWV 6.41: I. Moderato

Johann Melchior Molter: Clarinet Concerto No. 1 in A Major, MWV 6.41: II. Largo

Johann Melchior Molter: Clarinet Concerto No. 1 in A Major, MWV 6.41: III. Allegro

Johann Melchior Molter: Clarinet Concerto No. 2 in D Major, MWV 6.38: I. Moderato

Johann Melchior Molter: Clarinet Concerto No. 2 in D Major, MWV 6.38: II. Largo

Johann Melchior Molter: Clarinet Concerto No. 2 in D Major, MWV 6.38: III. Allegro

Johann Melchior Molter: Clarinet Concerto No. 3 in G Major, MWV 6.40: I. Moderato

Johann Melchior Molter: Clarinet Concerto No. 3 in G Major, MWV 6.40: II. Adagio

Johann Melchior Molter: Clarinet Concerto No. 3 in G Major, MWV 6.40: III. Allegro

Johann Melchior Molter: Clarinet Concerto No. 4 in D Major, MWV 6.39: I. Moderato

Johann Melchior Molter: Clarinet Concerto No. 4 in D Major, MWV 6.39: II. Adagio

Johann Melchior Molter: Clarinet Concerto No. 4 in D Major, MWV 6.39: III. Allegro
Disk 2
Louis Spohr: Clarinet Concerto No. 1 in C Minor, Op. 26: I. Adagio – Allegro

Louis Spohr: Clarinet Concerto No. 1 in C Minor, Op. 26: II. Adagio

Louis Spohr: Clarinet Concerto No. 1 in C Minor, Op. 26: III. Rondo. Vivace

Louis Spohr: Clarinet Concerto No. 4 in C Minor, WoO 20: I. Allegro vivace

Louis Spohr: Clarinet Concerto No. 4 in C Minor, WoO 20: II. Larghetto

Louis Spohr: Clarinet Concerto No. 4 in C Minor, WoO 20: III. Rondo al espagnol
Disk 3
Louis Spohr: Clarinet Concerto No. 2 in E-Flat Major, Op. 57: I. Allegro

Louis Spohr: Clarinet Concerto No. 2 in E-Flat Major, Op. 57: II. Adagio

Louis Spohr: Clarinet Concerto No. 2 in E-Flat Major, Op. 57: III. Rondo alla polacca

Louis Spohr: Clarinet Concerto No. 3 in F Minor, WoO 19: I. Allegro moderato

Louis Spohr: Clarinet Concerto No. 3 in F Minor, WoO 19: II. Adagio

Louis Spohr: Clarinet Concerto No. 3 in F Minor, WoO 19: III. Vivace non troppo
Disk 4
Wolfgang Amadeus Mozart: Clarinet Concerto in A Major, K. 622: I. Allegro

Wolfgang Amadeus Mozart: Clarinet Concerto in A Major, K. 622: II. Adagio

Wolfgang Amadeus Mozart: Clarinet Concerto in A Major, K. 622: III. Rondo. Allegro

Max Bruch: Double Concerto in E Minor, Op. 88: I. Andante con moto

Max Bruch: Double Concerto in E Minor, Op. 88: II. Allegro moderato

Max Bruch: Double Concerto in E Minor, Op. 88: III. Allegro molto
Disk 5
Carl Maria Von Weber: Concertino in E-Flat Major, Op. 26

Carl Maria Von Weber: Clarinet Concerto No. 1 in F Minor, Op. 73: I. Allegro

Carl Maria Von Weber: Clarinet Concerto No. 1 in F Minor, Op. 73: II. Adagio ma non troppo

Carl Maria Von Weber: Clarinet Concerto No. 1 in F Minor, Op. 73: III. Rondo. Allegretto

Carl Maria Von Weber: Clarinet Concerto No. 2 in E-Flat Major, Op. 74: I. Allegro

Carl Maria Von Weber: Clarinet Concerto No. 2 in E-Flat Major, Op. 74: II. Romanza. Andante

Carl Maria Von Weber: Clarinet Concerto No. 2 in E-Flat Major, Op. 74: III. Alla polacca

Ferruccio Busoni: Concertino in B-Flat Major, Op. 48, BV 276
Disk 6
Bernhard Hendrik Crusell: Clarinet Concerto No. 1 in E-Flat Major, Op. 1: I. Allegro

Bernhard Hendrik Crusell: Clarinet Concerto No. 1 in E-Flat Major, Op. 1: II. Adagio

Bernhard Hendrik Crusell: Clarinet Concerto No. 1 in E-Flat Major, Op. 1: III. Rondo. Allegretto

Bernhard Hendrik Crusell: Clarinet Concerto No. 2 in F Minor, Op. 5: I. Allegro

Bernhard Hendrik Crusell: Clarinet Concerto No. 2 in F Minor, Op. 5: II. Andante pastorale

Bernhard Hendrik Crusell: Clarinet Concerto No. 2 in F Minor, Op. 5: III. Rondo. Allegretto

Bernhard Hendrik Crusell: Clarinet Concerto No. 3 in B-Flat Major, Op. 11: I. Allegro risoluto

Bernhard Hendrik Crusell: Clarinet Concerto No. 3 in B-Flat Major, Op. 11: II. Andante moderato

Bernhard Hendrik Crusell: Clarinet Concerto No. 3 in B-Flat Major, Op. 11: III. Alla polacca
Disk 7
Franz Krommer: Concerto for 2 Clarinets in E-Flat Major, Op. 35: I. Allegro

Franz Krommer: Concerto for 2 Clarinets in E-Flat Major, Op. 35: II. Adagio

Franz Krommer: Concerto for 2 Clarinets in E-Flat Major, Op. 35: III. Rondo

Franz Krommer: Clarinet Concerto in E-Flat Major, Op. 36: I. Allegro

Franz Krommer: Clarinet Concerto in E-Flat Major, Op. 36: II. Adagio

Franz Krommer: Clarinet Concerto in E-Flat Major, Op. 36: III. Rondo

Franz Krommer: Concerto for 2 Clarinets in E-Flat Major, Op. 91: I. Allegro

Franz Krommer: Concerto for 2 Clarinets in E-Flat Major, Op. 91: II. Adagio

Franz Krommer: Concerto for 2 Clarinets in E-Flat Major, Op. 91: III. Alla polacca
Disk 8
Carl Stamitz: Clarinet Concerto No. 1 in F Major: I. Allegro

Carl Stamitz: Clarinet Concerto No. 1 in F Major: II. Andante moderato

Carl Stamitz: Clarinet Concerto No. 1 in F Major: III. Rondeau. Allegro

Carl Stamitz: Double Clarinet Concerto in B-Flat Major: I. Allegro

Carl Stamitz: Double Clarinet Concerto in B-Flat Major: II. Andante moderato

Carl Stamitz: Double Clarinet Concerto in B-Flat Major: II. Allegro

Carl Stamitz: Concerto for Clarinet, Bassoon & Orchestra in B-Flat Major: I. Allegro moderato

Carl Stamitz: Concerto for Clarinet, Bassoon & Orchestra in B-Flat Major: II. Andante moderato

Carl Stamitz: Concerto for Clarinet, Bassoon & Orchestra in B-Flat Major: III. Rondo
Disk 9
Saverio Mercadante: Clarinet Concerto No. 2 in B-Flat Major, Op. 101: I. Allegro maestoso

Saverio Mercadante: Clarinet Concerto No. 2 in B-Flat Major, Op. 101: II. Adagio

Saverio Mercadante: Clarinet Concerto No. 2 in B-Flat Major, Op. 101: III. Andante con variazoni

Saverio Mercadante: Clarinet Concerto No. 1 in E-Flat Major, Op.76: I. Maestoso

Saverio Mercadante: Clarinet Concerto No. 1 in E-Flat Major, Op.76: II. Largo

Saverio Mercadante: Clarinet Concerto No. 1 in E-Flat Major, Op.76: III. Polacca brillante

Saverio Mercadante: Clarinet Concertino in C Minor: I. Allegro moderato

Saverio Mercadante: Sinfonia concertante No. 3 in E-Flat Major: I. Allegro – Largo – Tema con variazioni
Disk 10
Franz Hoffmeister: Clarinet Concerto in B-Flat Major: I. Allegro

Franz Hoffmeister: Clarinet Concerto in B-Flat Major: II. Adagio

Franz Hoffmeister: Clarinet Concerto in B-Flat Major: III. Rondo. Allegro

Franz Hoffmeister: Sinfonia concertante No. 1 in E-Flat Major: I. Allegro

Franz Hoffmeister: Sinfonia concertante No. 1 in E-Flat Major: II. Romanze. Poco adagio

Franz Hoffmeister: Sinfonia concertante No. 1 in E-Flat Major: III. Rondo. Allegro

Franz Hoffmeister: Sinfonia concertante No. 2 in E-Flat Major: I. Allegro

Franz Hoffmeister: Sinfonia concertante No. 2 in E-Flat Major: II. Romanze. Lento

Franz Hoffmeister: Sinfonia concertante No. 2 in E-Flat Major: III. Allegretto. Tema con variazioni
Disk 11
Heinrich Baermann: Concertstück in G Minor: I. Allegro agitato

Heinrich Baermann: Concertstück in G Minor: II. Adagio

Heinrich Baermann: Concertstück in G Minor: III. Allegretto

Heinrich Baermann: Clarinet Concertino in C Minor, Op. 29: I. Allegro

Heinrich Baermann: Clarinet Concertino in C Minor, Op. 29: II. Adagio

Heinrich Baermann: Clarinet Concertino in C Minor, Op. 29: III. Rondo. Allegretto vivo

Heinrich Baermann: Sonata No. 3 in D Minor: I. Adagio

Heinrich Baermann: Sonata No. 3 in D Minor: II. Allegro

Heinrich Baermann: Sonata No. 3 in D Minor: III. Finale. Prestissimo

Heinrich Baermann: Clarinet Concertino in E-Flat Major, Op. 27: I. Adagio maestoso – Allegro con spirit

Heinrich Baermann: Clarinet Concertino in E-Flat Major, Op. 27: II. Romanze. Larghetto

Heinrich Baermann: Clarinet Concertino in E-Flat Major, Op. 27: III. Polonaise. Tempo di polacca
Disk 12
Gerald Finzi: Clarinet Concerto in C Minor, Op. 31: I. Allegro vigoroso

Gerald Finzi: Clarinet Concerto in C Minor, Op. 31: II. Adagio, ma senza rigore

Gerald Finzi: Clarinet Concerto in C Minor, Op. 31: III. Rondo. Allegro giocoso

Charles Stanford: Clarinet Concerto in A Minor, Op. 80: I. Allegro moderato

Charles Stanford: Clarinet Concerto in A Minor, Op. 80: II. Adante con moto

Charles Stanford: Clarinet Concerto in A Minor, Op. 80: III. Allegro moderato

Aaron Copland: Clarinet Concerto: I. Slowly and Expressively –

Aaron Copland: Clarinet Concerto: II. Cadenza –

Aaron Copland: Clarinet Concerto: III. Rather Ffast
Disk 13
Carl Nielsen: Clarinet Concerto, Op. 57

Alexandre Tansman: Clarinet Concerto: I. Introduction et allegro

Alexandre Tansman: Clarinet Concerto: II. Arioso

Alexandre Tansman: Clarinet Concerto: III. Cadenza et danza populare

Paul Hindemith: Clarinet Concerto: I. Rather fast

Paul Hindemith: Clarinet Concerto: II. Ostinato. Fast

Paul Hindemith: Clarinet Concerto: III. Quiet

Paul Hindemith: Clarinet Concerto: IV. Gay
Disk 14
Gioacchino Rossini: Introduction, Theme & Variations for Clarinet & Orchestra in B-Flat Major: I. Andante

Gioacchino Rossini: Introduction, Theme & Variations for Clarinet & Orchestra in B-Flat Major: II. Thema. Allegretto

Gioacchino Rossini: Introduction, Theme & Variations for Clarinet & Orchestra in B-Flat Major: III. Variation I

Gioacchino Rossini: Introduction, Theme & Variations for Clarinet & Orchestra in B-Flat Major: IV. Variation II

Gioacchino Rossini: Introduction, Theme & Variations for Clarinet & Orchestra in B-Flat Major: V. Variation III

Gioacchino Rossini: Introduction, Theme & Variations for Clarinet & Orchestra in B-Flat Major: VI. Largo minore

Gioacchino Rossini: Introduction, Theme & Variations for Clarinet & Orchestra in B-Flat Major: VII. Maggiore

Felix Mendelssohn: Concert Pieces No. 1 in F Minor, Op. 113: I. Allegro di molto

Felix Mendelssohn: Concert Pieces No. 1 in F Minor, Op. 113: II. Andante

Felix Mendelssohn: Concert Pieces No. 1 in F Minor, Op. 113: III. Allegro molto

Felix Mendelssohn: Concert Pieces No. 2 in D Minor, Op. 114: I. Presto

Felix Mendelssohn: Concert Pieces No. 2 in D Minor, Op. 114: II. Andante

Felix Mendelssohn: Concert Pieces No. 2 in D Minor, Op. 114: III. Allegro grazioso

Julius Rietz: Clarinet Concerto in G Minor, Op. 29: I. Allegro agitato

Julius Rietz: Clarinet Concerto in G Minor, Op. 29: II. Adagio

Julius Rietz: Clarinet Concerto in G Minor, Op. 29: III. Allegro vivace