Clementi: Complete Sonatas Vol.II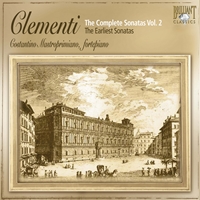 | | |
| --- | --- |
| Composer | Muzio Clementi |
| Artist | Constantino Mastroprimiano fortepiano |
| Format | 3 CD |
| Cat. number | 93685 |
| EAN code | 5028421936857 |
| Release | April 2006 |
About this release
This is a sequel to the 3 CD album with the Viennese sonatas by Clementi released last year. Fortepianist Costantino Mastroprimiano now continues with the composer's earliest sonatas. They range from really early ones - Clementi may have been only 11 when he wrote the first piece - to mature and technically demanding pieces.

At twelve and already an organist at the churches of Rome Italian Muzio Clementi was taken to England by a 'patron'. This Peter Beckford was the dedicatee of Clementi's first set of published works. They are sonatas and musically uncomplicated.

This issue also comprises Clementi's Opera I and II, sets of sonatas composed after his extremely busy period with Beckford, studying and performing as a virtuoso pianist. Especially the three works for solo piano from Opera 'II are' of exceptional virtuosity for that time (1779) and reflect Clementi's own dexterity.

Once again fortepianist Costantino Mastroprimiano takes the listener on an interesting journey through mostly unknown territory.
Track list
Disk 1
Sonata in A flat major WO 13 (1765): All[egr]o ma non troppo

Sonata in A flat major WO 13 (1765): Larghetto

Sonata in A flat major WO 13 (1765): All[egr]o assai

Sonata in E flat major Op. 1 No. 1: All.° con Comodo

Sonata in E flat major Op. 1 No. 1: Tempo di Minuetto

Sonata in G major Op. 1 No. 2: Spiritoso

Sonata in G major Op. 1 No. 2: All.° assai

Sonata in B flat major Op. 1 No. 3: Maestoso

Sonata in B flat major Op. 1 No. 3: Andantino Grazioso

Sonata in F major Op. 1 No. 4: Spiritoso

Sonata in F major Op. 1 No. 4: Larghetto

Sonata in F major Op. 1 No. 4: Rondeaux

Sonata in A major Op. 1 No. 5: Larghetto

Sonata in A major Op. 1 No. 5: Tempo di Men[uetto]. Grazioso

Sonata in E major Op. 1 No. 6: Moderato

Sonata in E major Op. 1 No. 6: Rondeau. Grazioso
Disk 2
Sonata in F major oeuvre 1.er No. 1: Andante

Sonata in F major oeuvre 1.er No. 1: Allegro. La Pantoufle avec des Variations

Sonata in B flat major oeuvre 1.er No. 2: Allegro Moderato

Sonata in B flat major oeuvre 1.er No. 2: Andantino Grazioso

Sonata in B flat major oeuvre 1.er No. 2: Allegro. Air du Balet de Mirza avec des Variations

Sonata in G major oeuvre 1.er No. 3: Allegretto

Sonata in G major oeuvre 1.er No. 3: Black Joke. Air Anglaise avec des Variations

Sonata in A major oeuvre 1.er No. 4: Larghetto

Sonata in A major oeuvre 1.er No. 4: Tempo di Minuetto

Sonata in A minor oeuvre 1.er No. 5: Allegro

Sonata in G major WO 14 (1768): All[egr]o

Sonata in G major WO 14 (1768): All[egr]o assai

Giga in B minor (Corelli): Allegro

Sarabanda in D minor (Corelli): Allegro

Allemande in D minor ( Corelli): Allegro

Sarabanda in F major (Corelli): Vivace

Giga in F major (Corelli): Allegro

(Allegro) in C major (Corelli): (Allegro)
Disk 3
Sonata in C major op. 2 No. 2: Presto

Sonata in C major op. 2 No. 2: Rondeau. Spiritoso

Sonata in A major op. 2 No. 4: Allegro assai

Sonata in A major op. 2 No. 4: Spiritoso

Sonata in B flat major op 2 No. 6: Allegro di molto

Sonata in B flat major op 2 No. 6: Prestissimo

The Black Joke with 21 Variations WO 2 (Ed. Welcker, London): (Thema) Allegro.Var. 1 – 6

The Black Joke with 21 Variations WO 2 (Ed. Welcker, London): Var. 7 - 13

The Black Joke with 21 Variations WO 2 (Ed. Welcker, London): Var. 14 - 17

The Black Joke with 21 Variations WO 2 (Ed. Welcker, London): Var. 19 - 21