C.P.E. Bach: Hamburg Symphonies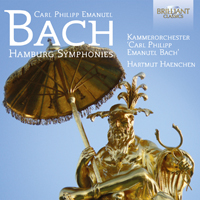 Composer
Carl Philipp Emanuel Bach
Artist
Kammerorchester 'Carl Philipp Emanuel Bach'
Hartmut Haenchen conductor
Michael-Christfried Winkler harpsichord
Format
2 CD
Cat. number
94821
EAN code
5028421948218
Release
July 2015
About this release
Although perhaps better known for his intricate keyboard works than his orchestral music, J.S. Bach's most prolific son was also a sympathetic composer for larger ensembles. As a young composer, C.P.E. Bach turned his hand to the symphony form once or twice, but it was not until his move from Berlin to Hamburg in 1768 that he began to develop these initial attempts into more substantial compositions.

In Hamburg Bach drew the attention of Baron Gottfried van Swieten, who commissioned two sets of symphonies from the composer: six for string orchestra (Wq182) and the four Orchestral Symphonies 'mit zwölf obligaten Stimmen' (Wq183). Accomplished though the string symphonies undoubtedly were, it was the second group that Bach was truly proud of; for the first time, the wind parts – as the name suggests – were intricately woven into the score rather than being a simple 'additional feature'. The texture of the music is noticeably more complex, and while Bach's earlier symphonies take their cue from his contemporary Johann Gottlieb Graun, these later ones are much bolder works that reveal the development of Bach's own unique style. Interesting features include the composer's tendency to through-compose his first movements; his dancelike finales; and the fact that he often marks pairs of movements or even whole symphonies to be played straight through without a break, an unusual feature of the time. Part of a series of C.P.E. Bach releases, this is the first volume to explore the composer's works for orchestra. The recording was made by the renowned Kammerorchester Carl Philipp Emanuel Bach in 1985–6 and directed by Hartmut Haenchen; experts in the composer's early Classical style, the ensemble performs on modern instruments while achieving much authenticity in terms of texture.

This release presents the 4 symphonies that Carl Philipp Emanuel Bach wrote during his stay in Hamburg. In these large-scale works the string section is extended with 2 flutes, 2 oboes, 2 horns and bassoon, instruments which are treated quasi solistically, so that one can almost speak of a Sinfonia Concertante.
The musical language is clearly "Sturm und Drang", full of vehement dynamics and changes of sentiment, the fingerprint of this most famous son of Johann Sebastian.
Excellent performances on modern instruments but in 18th century spirit by the Kammerorchester Carl Philipp Emanuel Bach, conducted by the great Hartmut Haenchen.

Other information:
Recorded in Germany in 1985–6.
Contains notes on the works.
Track list
Disk 1
Symphony No. 1 in D Major, H.663: I. Allegro di molto

Symphony No. 1 in D Major, H.663: II. Largo

Symphony No. 1 in D Major, H.663: III. Presto

Symphony No. 2 in E- Flat Major, H.664: I. Allegro di molto

Symphony No. 2 in E- Flat Major, H.664: II. Larghetto

Symphony No. 2 in E- Flat Major, H.664: III. Allegretto

Symphony No. 3 in F Major, H.665: I. Allegro di molto

Symphony No. 3 in F Major, H.665: II. Larghetto

Symphony No. 3 in F Major, H.665: III. Presto

Symphony No. 4 in G Major, H.666: I. Allegro assai

Symphony No. 4 in G Major, H.666: II. Poco andante

Symphony No. 4 in G Major, H.666: III. Presto
Disk 2
Symphony No. 1 in G Major, H.657: I. Allegro di molto

Symphony No. 1 in G Major, H.657: II. Poco adagio

Symphony No. 1 in G Major, H.657: III. Presto

Symphony No. 2 in B- Flat Major, H.658: I. Allegro di molto

Symphony No. 2 in B- Flat Major, H.658: II. Poco adagio

Symphony No. 2 in B- Flat Major, H.658: III. Presto

Symphony No. 3 in C Major, H.659: I. Allegro assai

Symphony No. 3 in C Major, H.659: II. Adagio

Symphony No. 3 in C Major, H.659: III. Allegretto

Symphony No. 4 in A Major, H.660: I. Allegro ma non troppo

Symphony No. 4 in A Major, H.660: II. Largo ed innocentemente

Symphony No. 4 in A Major, H.660: III. Allegro assai

Symphony No. 5 in B Minor, H.661: I. Allegretto

Symphony No. 5 in B Minor, H.661: II. Larghetto

Symphony No. 5 in B Minor, H.661: III. Presto

Symphony No. 6 in E Major, H.662: I. Allegro di molto

Symphony No. 6 in E Major, H.662: II. Poco andante

Symphony No. 6 in E Major, H.662: III. Allegro spirituoso