Duphly: Complete Keyboard Music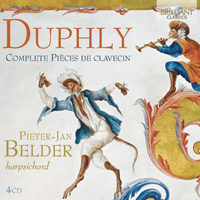 | | |
| --- | --- |
| Composer | Jacques Duphly |
| Artist | Belder Pieter-Jan |
| Format | 4 CD |
| Cat. number | 94999 |
| EAN code | 5028421949994 |
| Release | December 2014 |
About this release
Although now faded into obscurity, Jacques Duphly was one of the most prominent French harpsichordists of his time, famed
for his excellent teaching skills and known for his enviable connections with the French aristocracy. His keyboard works are a veritable treasure trove of music for harpsichord lovers; despite having been an organist in his youth, he soon realised that
his talents lay with the smaller keyboard instrument, and he moved from Rouen to Paris to make best use of his skills. This
release contains Duphly's complete keyboard music in the form of four livres for the harpsichord, written between 1744 and
1768, a period that marked extensive change both in France and within Duphly's music. At the beginning of his career,
Duphly's music closely resembled the works of Baroque composers Couperin and Rameau; by the fourth book, however, his music has become firmly Classical in style, with extensive use of Alberti basses (broken chords in the left hand), a feature regularly used by Classical composers such as Haydn and Mozart. Duphly also began to utilize new harmonies and rhythmic structures in his music that had never before been possible; the complexity of the works reveals the high level expected of amateur players at the time. Many of Duphly's works are named after the aristocrats with whom the composer enjoyed connections at the time; his death in the revolutionary year of 1789 marked the end of a period of the harpsichord's huge popularity among the aristocracy in France. One of Brilliant Classics' most prominent artists, Pieter‐Jan Belder is the perfect interpreter of these works, here using a harpsichord carefully modelled after a 1730 Blanchet model in order to create a highly authentic performance. Having already released works by C.P.E. Bach, Soler and Rameau, not to mention his ongoing recording of the Fitzwilliam Virginal Book, Belder is a sensitive and lyrical harpsichordist, with an assured touch that brings Duphly's neglected oeuvre to life. Praised by Gramophone magazine for his 'style and clarity' and 'great sense of spontaneity' in his recording of Soler's harpsichord works, Belder proves himself to be a master of 18th‐century harpsichord music. He is joined by Japanese violinist Rie Kimura, who adds sparkling energy when Duphly calls for the addition of the violin.

A premiere release: the complete keyboard music by Duphly! • Jacques Duphly was one of the most famous keyboard virtuosos and composers of mid‐18th century France. This 4‐CD set presents his entire output for the keyboard, consisting of 4 books, Livres de Pièces de Clavecin. Written between 1744 and 1768 these important works mark the transition from the rich ornamented Baroque style to the more gallant style of the Classical Era, foreshadowing the early keyboard works by Mozart.
An important release, and another feather in the cap of the indefatigable Pieter‐Jan Belder, one of the foremost keyboard players of today, with more than 100 CD's to his name: complete Scarlatti Sonatas, complete Rameau, Marais, CPE Bach, Telemann, JS Bach and many others. • Liner notes written by Pieter‐Jan Belder.

Other information:
Recorded in 2013 and 2014 at the Capuchin Monastery in Velp, Grave, The Netherlands.
Extensive notes on the composer, works and the performer.
Track list
Disk 1
Premier livre de pièces de clavecin: I. Allemande No. 1

Premier livre de pièces de clavecin: II. Courante

Premier livre de pièces de clavecin: III. La vanlo

Premier livre de pièces de clavecin: IV. Rondeau

Premier livre de pièces de clavecin: V. La tribolet

Premier livre de pièces de clavecin: VI. Rondeau

Premier livre de pièces de clavecin: VII. La damanzy

Premier livre de pièces de clavecin: VIII. La cazamajor

Premier livre de pièces de clavecin: I. Allemande No. 2

Premier livre de pièces de clavecin: II. La boucon

Premier livre de pièces de clavecin: III. La larare

Premier livre de pièces de clavecin: IV. Menuets

Premier livre de pièces de clavecin: V. Rondeau

Premier livre de pièces de clavecin: VI. La millettina
Disk 2
Deuxième livre de pièces de clavecin: I. La victoire

Deuxième livre de pièces de clavecin: II. La de villeroy

Deuxième livre de pièces de clavecin: III. La Félix

Deuxième livre de pièces de clavecin: IV. La de vatre

Deuxième livre de pièces de clavecin: V. La lanza

Deuxième livre de pièces de clavecin: VI. Les colombes

Deuxième livre de pièces de clavecin: VII. La damanzy

Deuxième livre de pièces de clavecin: VIII. La de beuzeville

Deuxième livre de pièces de clavecin: IX. La d'Héricourt

Deuxième livre de pièces de clavecin: X. Gavottes

Deuxième livre de pièces de clavecin: XI. Menuets

Deuxième livre de pièces de clavecin: XII. La de redemond

Deuxième livre de pièces de clavecin: XIII. La de caze

Deuxième livre de pièces de clavecin: XIV. La de brissac
Disk 3
Troisième livre de pièces de clavecin: I. Ouverture*

Troisième livre de pièces de clavecin: II. La de may*

Troisième livre de pièces de clavecin: III. La madin*

Troisième livre de pièces de clavecin: IV. La forqueray

Troisième livre de pièces de clavecin: V. Chaconne

Troisième livre de pièces de clavecin: VI. Médée

Troisième livre de pièces de clavecin: VII. Les grâces

Troisième livre de pièces de clavecin: VIII. La de belombre

Troisième livre de pièces de clavecin: IX. Menuets

Troisième livre de pièces de clavecin: X. La de casaubon*

Troisième livre de pièces de clavecin: XI. La du tailly*

Troisième livre de pièces de clavecin: XII. La de valmallette*
Disk 4
Troisième livre de pièces de clavecin: XIII. La de la tour

Troisième livre de pièces de clavecin: XIV. La de guyon

Troisième livre de pièces de clavecin: XV. Menuets

Troisième livre de pièces de clavecin: XVI. La de chamlay

Troisième livre de pièces de clavecin: XVII. La de villeneuve

Quatrième livre de pièces de clavecin: I. La de juigné

Quatrième livre de pièces de clavecin: II. La de sartine

Quatrième livre de pièces de clavecin: III. La de drummond

Quatrième livre de pièces de clavecin: IV. La de vaucanson

Quatrième livre de pièces de clavecin: V. La pothoüin

Quatrième livre de pièces de clavecin: VI. La du buq