Enescu: Violin Sonatas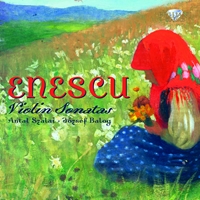 Composer
George Enescu
Artist
Szalai Antal violin
Balog Jozsef piano
Format
1 CD
Cat. number
9165
EAN code
5029365916523
Release
October 2010
About this release
Pablo Casals called George Enescu (1881-1955) 'the greatest musical phenomenon since Mozart'. For many people he is remembered as one of the greatest violin virtuosos of the 20th century. Whilst true, that would be to recognise only one facet of this artist. He considered himself primarily a composer (he also was a fine pianist and conductor), and though his most famous work is the early Romanian Rhapsody No.1, this colourfully nationalistic effort is a world away from the individual and sophisticated style of his chamber and orchestra music. These show Enescu to be every bit the equal of his contemporaries Bartok, Kodaly, Janácek, Martinu and Szymanowski.

Like his contemporaries, he was very aware of the heritage of the traditional music of his country, and his style is a highly personal blend of folk music with the chromatic language of Wagner and Faure's sophistication and delicacy. Early in his career he played in orchestras conducted by Brahms, and studied in Paris with Massenet and Faure – Ravel was a fellow pupil.

The three violin sonatas date from 1897, 1899 and 1926.

Other information:
- Recorded in 2009.
- Enescu is a 20th century master whose works deserve wider currency, and this CD is an ideal introduction to his chamber music.
- Detailed booklet essay included.
Track list
Disk 1
Sonata No.1 in D, Op.2: I. Allegro viVo

Sonata No.1 in D, Op.2: II. Quasi adagio

Sonata No.1 in D, Op.2: III. Allegro

Sonata No.2 in F Minor, Op.6: I. Assez mouvementé

Sonata No.2 in F Minor, Op.6: II. Tranquillement

Sonata No.2 in F Minor, Op.6: III. vif

Sonata No.3 in A Minor, Op.25 'dans le caractère Populaire roumain': I. Moderato malinconico

Sonata No.3 in A Minor, Op.25 'dans le caractère Populaire roumain': II. Andante sostenuto e misterioso

Sonata No.3 in A Minor, Op.25 'dans le caractère Populaire roumain': III. Allegro con brio, ma Non trOppo mosso